We've dined at Mesa Filipino Moderne several times already, but we never get tired of going there because every time we do, we get delicious surprises with each new food item we try. Last Easter Sunday, after having lunch at Boon Tong Kee in SM Mall of Asia, we went to SM Megamall for dinner at Mesa. That's how much of a mall rat we are!
Pinaputok na Bangus, Php310.00
I'm a sucker for bangus (milkfish) dishes, so this
Pinaputok na Bangus
wrapped in banana leaf, with tomatoes and onions inside, was my choice of viand for the night. This soft, succulent and tasty bangus was perfect for a cup of hot steamed rice. Hubby and son loved it, too!
Chicken Binakol, Php260.00
There's nothing like a piping hot bowl of flavorful soup to warm the heart, and this
Chicken Binakol
was exactly what we needed to cap off our Easter Sunday celebration. This chicken dish is similar to Tinolang Manok, except that it has young coconut meat in it which gives it a slight sweet flavor. It's originally served in a coconut shell and is good for 3 to 4 persons. Hubby and I enjoyed this, while our son was already content with the Pinaputok na Bangus.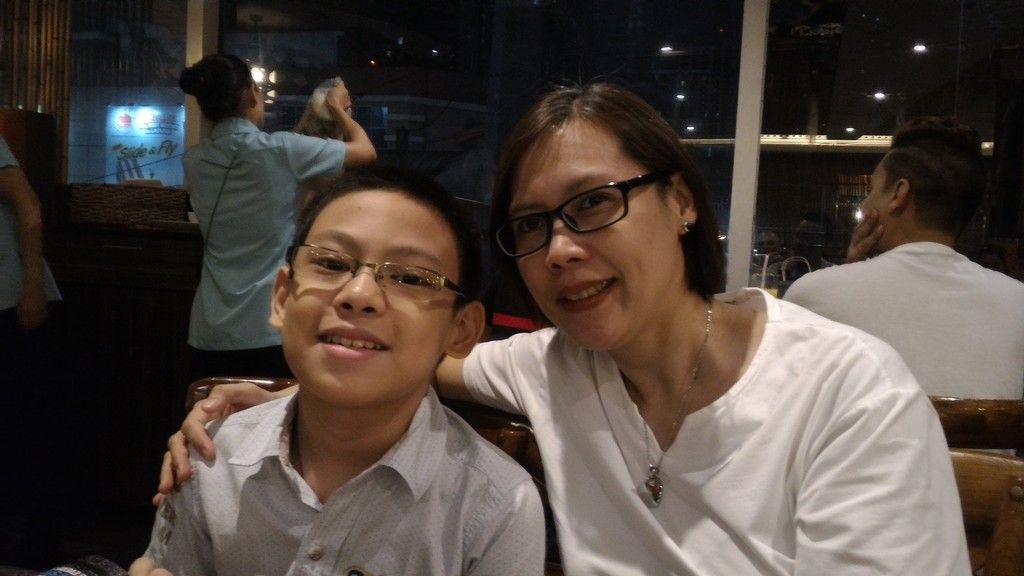 That's me and my son hamming it up for the camera.
This picture of us was taken by hubby as we eagerly await our hearty Mesa meals.