Do you want to win exciting prizes this summer? You can if you will join Unilever Food Solutions 'Mayo-Win' Promo! Lady's Choice, the well-loved mayonnaise brand that is preferred by 9 out of 10 diners*, will be giving away a total of Php2 million worth of load and gadgets this summer. By just purchasing a 5.5L tub of Lady's Choice, you'll have a chance to take home any of these amazing items: Instant load, 10 units of Samsung Galaxy Note 4, 30 units of iPad Mini, and 40 Samsung LED TV.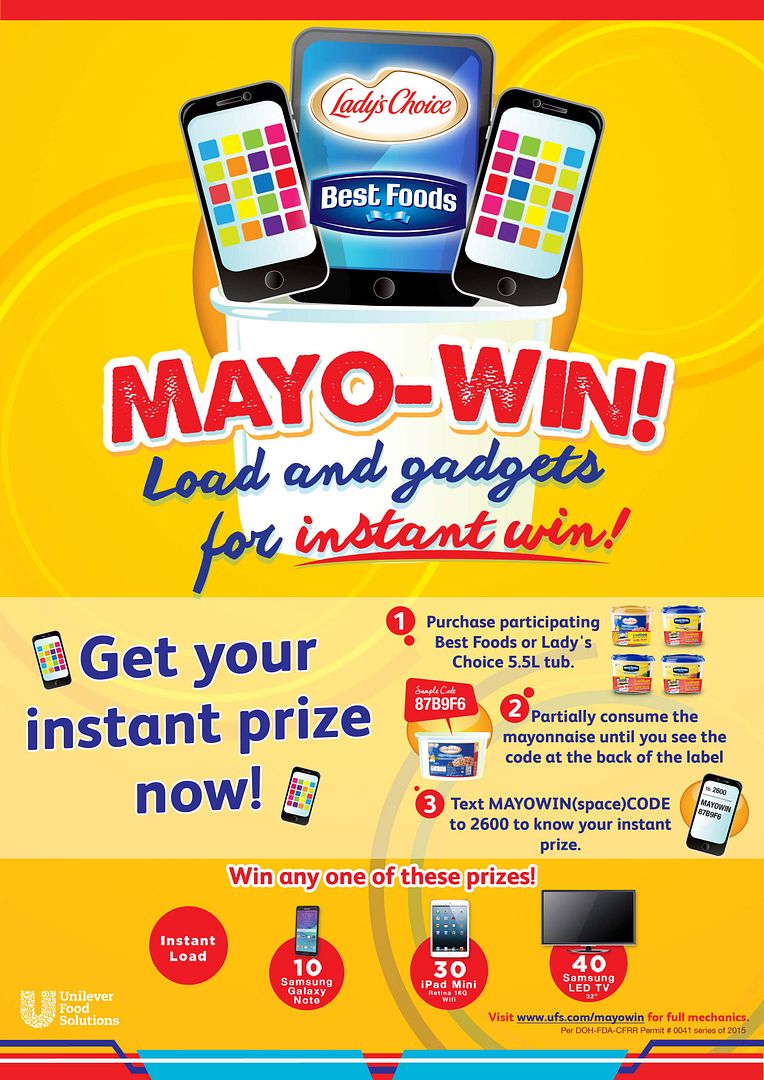 Here's what you need to do to win:
– Purchase specially marked Lady's Choice Real Mayonnaise and Best Foods Real Mayonnaise, Mayo Magic and Wonder Mayo 5.5L tubs with unique codes.
– Look for the unique code inside the tub, behind the packaging sticker, which can be seen upon consumption of product.
– Find out your instant prize by texting the following: MAYOWIN(space) to 2600. (Sample entry: MAYOWIN 123XCD).
- If you're a first-time participant, you will be prompted to register. Just text MAYOWIN REG to 2600. You must register in order for you to claim your prize. Registration is only done once and is FREE of charge.
Keep joining the promo to keep winning awesome prizes! Subscribers of Smart, Talk & Text, Sun Cellular, Globe, and Touch Mobile, whether postpaid or prepaid, are eligible to join this contest. Send the correct code and wait for the reply once your entry has been processed. Promo period will be from April 1 to June 30, 2015.
For more information about the Mayo-Win promo and how Unilever Food Solutions can help grow your food business, visit www.ufs.com/mayowin.
*Based on PSRC Study on Mayo Preference on Favorite Dishes dated 09 July 2014
Per DOH-FDA-CFRR Permit # 0041 series of 2015