I have been bugging my husband to find a sturdy shoe cabinet for us since the previous one that I ordered online finally gave way earlier this year. It took a while to find the shoe organizer that would suit our needs, and hubby wanted me to look at it first before he'd buy it. So I went with him to Urban Concepts Furniture Gallery at Robinsons Galleria last month, and upon checking the item, I gave him my approval. Four days later, the shoe cabinet was delivered and assembled in our home.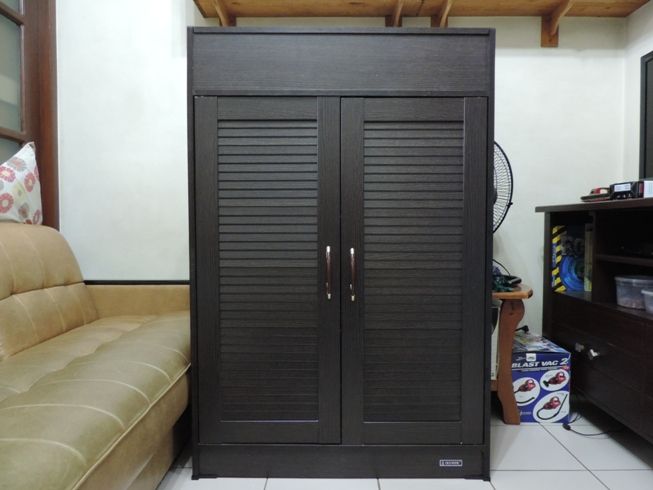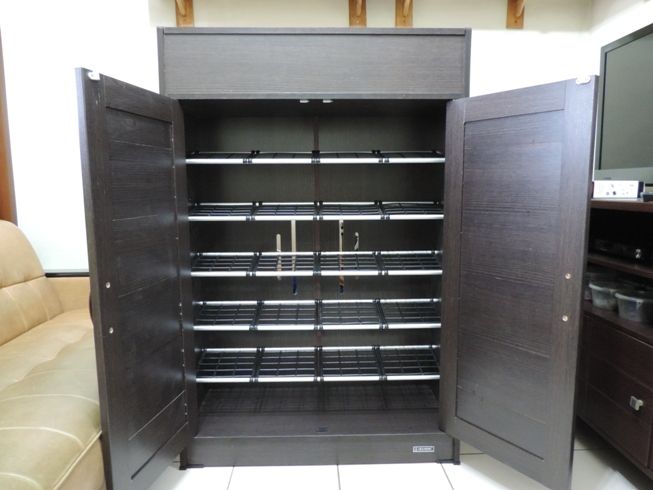 Outside and inside views of our newly assembled Urban Concepts shoe cabinet
It's a 5-tier shoe cabinet. The tiers are made of metal, while the rest of this shoe cabinet is made of wood. It costs Php Php3,562.50.
What I Like about It
• The size is perfect for the place vacated by our old shoe rack inside our bedroom.
• I love the color (dark oak) and its glossy finish.
• It's roomy. Twenty or more pairs of shoes can fit inside.
• It's low-maintenance. You only need to wipe it with dry cloth to keep it clean.
• Because you can close it, our shoes aren't exposed to dust.
• It looks elegant.
• It is durable.
What I Don't Like about It
• At the moment, none yet.
As you can see, all our shoes and slippers can fit inside, and there's still enough space left at the bottom to store more shoes and whatnot. The top of this shoe rack can also be used to hold other stuff like photo frames, vases and other home decors, or even books. With all of its nice features, I am convinced it's worth its price.
Urban Concepts Furniture Gallery
3rd Level, Robinsons Galleria
Quezon City