I received Theodore's Kitchen Spray from a mompreneur friend last month, but I only got to use it at home last week. The product is packaged in a sturdy spray bottle with lock mechanism to prevent accidental spills.
Theodore's Kitchen Spray (Php500ml), Php295.00
The first ever kitchen spray in the market,
Theodore's Kitchen Spray
is an all-natural kitchen cleaner and disinfectant. Its main ingredients include distilled white vinegar, sodium bicarbonate, organic lemon and tea tree essential oils.
How to Use
1. Shake well before using.
2. Spray on surface.
3. Wipe with a clean damp cloth or air-dry.
4. For a more thorough disinfecting, let the cleaner stay on the surface for a few minutes before wiping.
What I Like about It
• It's chemical-free.
• It's animal testing-free.
• It's biodegradable.
• It cleans and disinfects.
• It helps eliminate odor.
• It's economical. It takes only a few squirts to do the job.
What You May Not Like about It
• You can smell the lemon scent each time you spray, but as you begin wiping, the lemony scent is replaced by a faint vinegar smell. This is not really a problem because the vinegar smell fades away eventually.
My Experience
After I'm done preparing my son's breakfast and school lunch, I used Theodore's Kitchen Spray to clean my greasy stovetop. I sprayed on the surface of the stove and waited for several minutes before I started wiping. It didn't take me long to remove the grease and food splatters from my stove. The kitchen spray also did a good job of removing remaining cooking odors from my stove.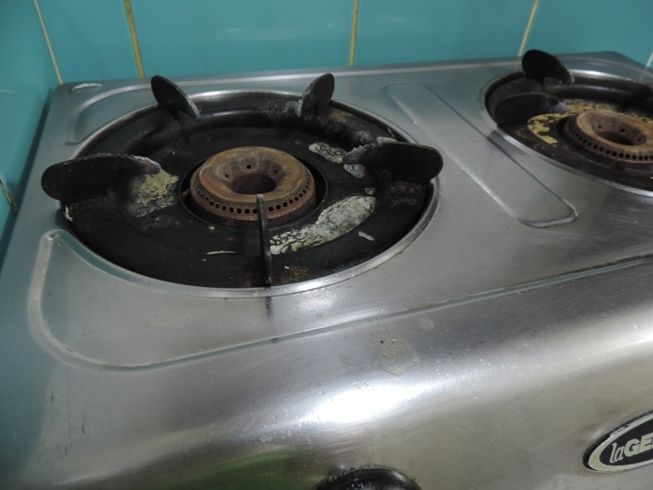 Before using Theodore's Kitchen Spray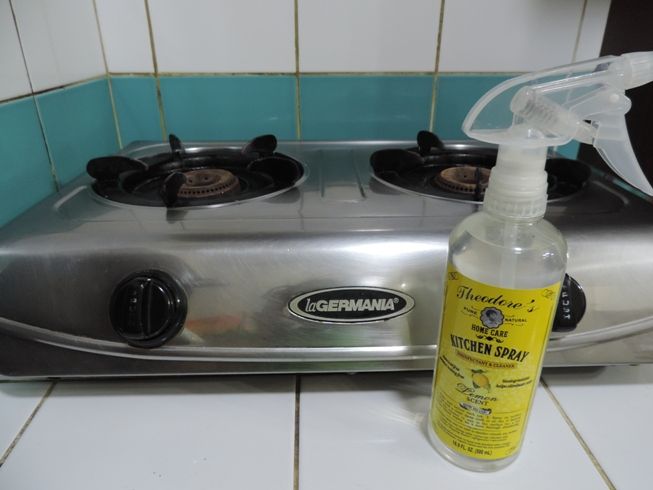 After using Theodore's Kitchen Spray
Germs and bacteria thrive in our kitchen, so this kitchen spray may also be used to disinfect our kitchen area before we prepare food for our families. This kitchen spray may be used virtually on any surface such as counter tops, stove top, kitchen sink, chopping board, dining table, refrigerator and microwave.
Theodore's Kitchen Spray is available at all EchoStore and Sesou branches in Metro Manila.