We visited Spatzle Euro Market Café at Shangri-La Plaza Mall for the first time last June. Spatzle is a small rustic restaurant located at Shangri-La East Wing that offers European cuisine. The first thing we noticed when we got seated was the small plastic bottle of hand sanitizer, sitting nicely on a wooden utensil holder on our table, which the guests can use before eating. That simple gesture shows how this restaurant is concerned about hygiene and cleanliness. Before leaving Spatzle, we learned that their hand sanitizer is also for sale, so I asked hubby to buy one.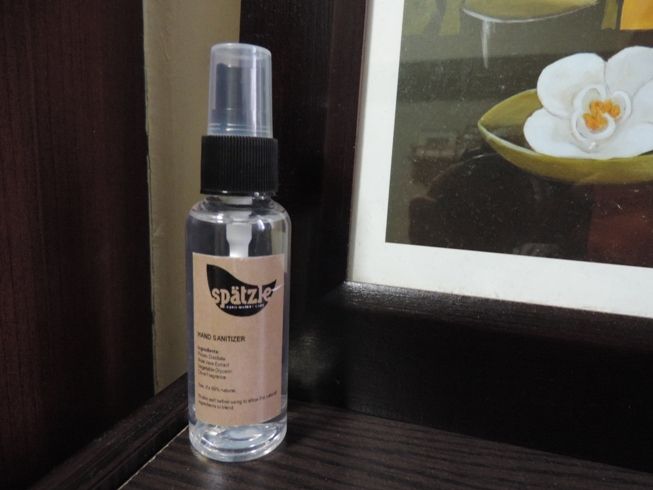 Spatzle Euro Market Café Hand Sanitizer (50ml), Php180.00
Ingredients:
Potato Distillate, Aloe Vera Extract, Vegetable Glycerin, Olive Fragrance
What I Like about It
• It's 99% natural.
• I love its fresh scent which is quite similar to calamansi.
• It dries up quickly.
What Might Prevent You from Buying It
• The price is quite stiff. I know how expensive it is to produce natural products, but there's a locally produced hand sanitizer made of natural ingredients, too, that costs only about Php60.00.
• It's not commercially available. You can only buy it from any of Spatzle's branches.
Will I Buy Another Bottle Again?
From time to time, I will. I might even consider giving it away as gifts.