We spend a third of our lives sleeping, which means if you're doing it right, you spend as much time in bed as you do in the office on a typical weekday. This makes it essential for your bedroom to be a space that allows you to escape the world's distractions and immerse yourself in the tranquil, relaxing environment so crucial for a good night's kip. Optimizing your slumber space need not keep you up all night. Make some of the following changes. They require minimum effort and pay dividends in sweet dreams.
Store everything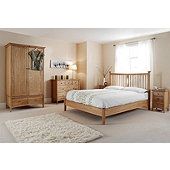 There's nothing worse than a chaotic gathering of makeup on a bedside table, piles of dirty clothes or shoes stacked along a skirting board; and it's rarely a good look to have your clothes on show. Instead,
stash away your clutter
in some coordinated bedroom furniture sets. Then you can drift off in the knowledge you won't trip over something and shatter an anklebone if you need to trek for a glass of water in the night.
Eliminate electronics
It might be tempting to check your email, texts and Facebook several thousand times before you fall asleep, but it most certainly isn't worthwhile and can be detrimental to a good night's rest. The same goes for televisions; keeping one in your bedroom blurs the fine line between going to bed and going to sleep.
Slip into something more seasonal
As seasons change, so should your bedding. Choosing warm, earthy hues in autumn, pastels in spring and flowers in summer is a quirky and cheap way of creating different, themed looks. You can coordinate cushion covers and accessories with your choices to make it feel like you have a new bedroom for every season.
Freshen up
Sleeping involves all the senses, so give yourself every chance of sweet dreams by sewing the night air with relaxing scents. Aromatherapy candles perfumed with heady night blooming flowers like jasmine can make you drowsy, as can lavender. Even better, decorate your boudoir with bunches of fresh blooms for an instant morning mood boost.
Keep blankets and a fan on hand to control the temperature, blackout blinds on the windows and earplugs if you need to block out noisy neighbors. Remember, you don't lose your senses just because you've lost consciousness, so focus on pleasing all five with your sleeping environment to maximize your rest potential.