Last month, I, together with my mommy blogger friends, attended the launch of Procter & Gamble's Joy with a Touch of Olay. After the event, were given samples of the product as gift tokens. Because I was curious about this new product, I tried it right away.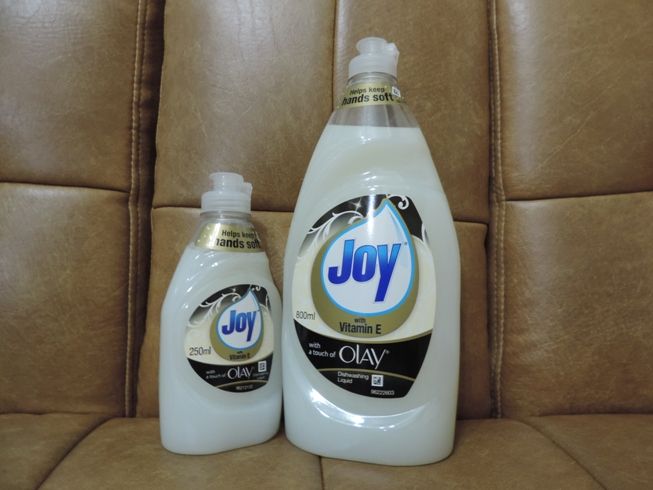 Product Information
• Joy with a Touch of Olay has excellent grease-cutting properties.
• It keeps your hands soft and moisturized because it has Vitamin E.
What I Like about It
• It's tough on grease. Just a tiny squirt of Joy with a Touch of Olay does the job. With other dishwashing liquid brands, I use more to remove oil and grease from the dishes, pots and pans.
• It's especially formulated with vitamin E, an antioxidant that helps repair the skin and nourishes the skin by locking in moisture.
• It's economical. A 250-ml bottle lasts a long time.
What You Might Not Like
• The color – Most dishwashing liquids are clear or colorless. Joy with a Touch of Olay is milky white in color, and that's one thing unique about it.
• The scent – It does not have the usual citrus/lemon scent of most dishwashing products. It actually smells more like a beauty product than a dishwashing product. This should not deter you from trying this product, however, because the scent doesn't stick on the dishes. After rinsing with water, your dishes, pots and pan will look and smell clean.
My Two Cents
Because we have been living without a helper for four months now, even the smallest tasks at home, like washing the dishes, is a chore for a work-at-home mom like me. However, when I started using Joy with a Touch of Olay, I noticed that I spend lesser time soaping and rinsing the dishes. That's because Joy with a Touch of Olay effectively removes stains and grease with only a small amount, and it's easy to rinse off. My hands are also well taken care of. I can honestly say that dishwashing now has become more of a joy than a chore. What's your experience with this product?