Two Saturdays ago, we found ourselves scurrying to Quezon Memorial Circle (QMC) because our 7-year-old son wanted so much to ride a bike. We rented two bikes, one for our son and another one for his yaya who followed him wherever he went. Bike rental at QMC is Php100 per hour, by the way. On our way home, we passed by this part of QMC with free exercise machines. Justin wasted no time in trying some of them out.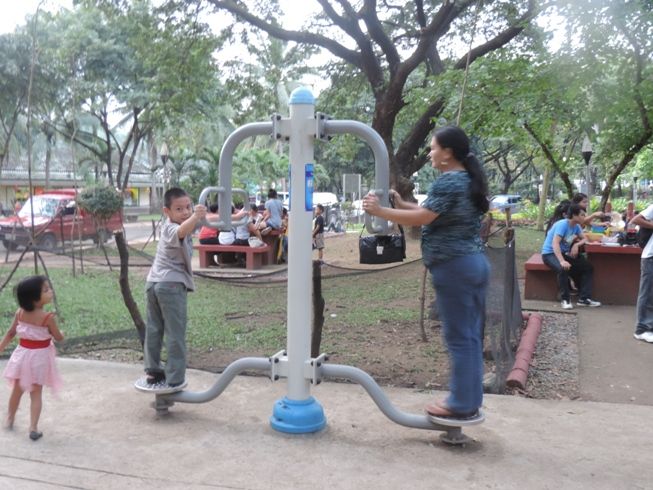 Twister
Using the
Twister
equipment is easy. All you need to do is step on the footboard, grab the handle and twist your body from left to right and vice versa. This exercise strengthens the waist and abdomen.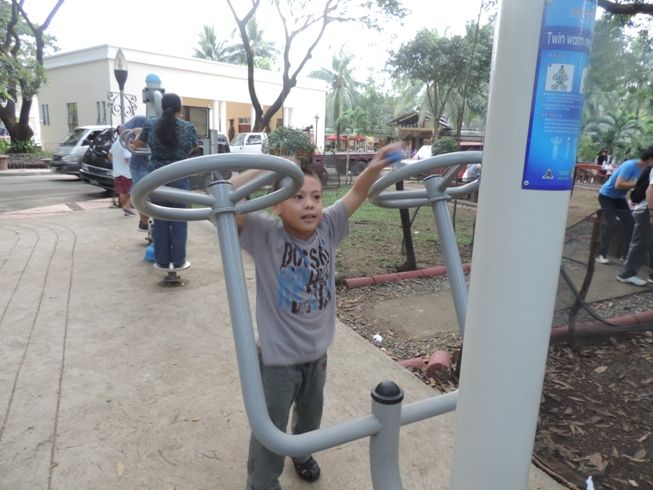 Twin Warm Ming Arm
The
Twin Warm Ming Arm
softens the muscles of the shoulders and wrist. You need to grab the handle and twist your hands in the same direction or in the opposite direction.
Sit-Up Bench
The
Sit-Up Bench
, as the name suggests, allows one to do sit-ups. It strengthens waist and abdominal muscles and helps get rid of abdominal fat. Because he didn't read the instructions, Justin thought that all he needed to do was lie down on the equipment, nothing more. What he didn't know was that after lying flat on his back, he should also do these other steps: put his hands over his head for protection, step on the footboard, sit up slowly, then release.
Rope Pull
Justin would have wanted to try the
Rope Pull
, but he wasn't tall enough to reach the handle. How does it work? Just grab the handle and move it up and down. Using this exercise machine improves the muscular and elastic strength of the shoulder and wrist.
Have you tried any of these free exercise machines at QMC?