I believe that using mouthwash, aside from flossing and brushing one's teeth two to three times a day, should be part of everyone's daily oral care regimen. I've been using mouthwash for years now, but I don't stick to just one brand because I'm always looking for something better. I found some mouthwashes too strong, while others were too weak that they could not deliver what they promised. My search for the ideal mouthwash ended when I found Swish Mouthwash.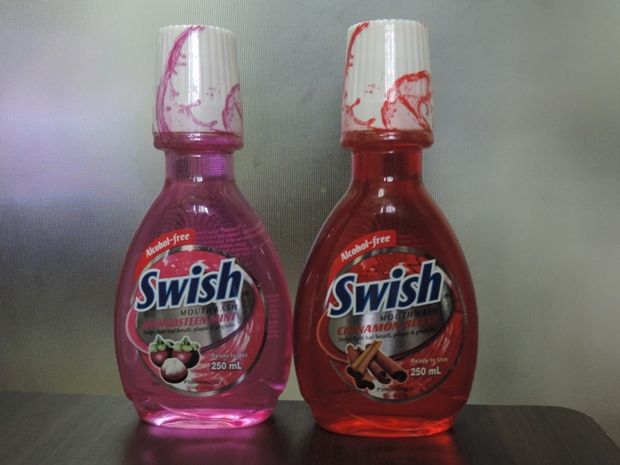 Mangosteen Mint and Cinnamon Blast
Swish Mouthwash
is a product of Innovitelle, Inc., a subsidiary of Unilab. It's safe to use by everyone including children 6 years old and above, cancer patients/survivors and pregnant women because it's alcohol-free. It has
Surefresh Technology
that kills bad-breath-causing bacteria, prevents plaque build-up, gum disease and tooth decay, and leaves one with long-lasting fresh breath every day.

Swish Minty Levels: Gentle Mint (Icy Choco Mint), Mild Mint (Mangosteen Mint), Strong Mint (Peppermint Fresh), Super Strong Mint (Cinnamon Blast) and Intensely Strong Mint (Arctic Chill)
Swish Mouthwash is available in 5 refreshing variants with various minty levels, ranging from gentle mint to intensely strong mint. Swish Mouthwash also comes in four different sizes at an affordable price: 35 ml (Php35.00), 60ml (Php46.75), 120ml (Php75.00) and 250ml (139.50).
How to Use Swish Mouthwash:
For best results, one can gargle 20ml of Swish mouthwash for 30 seconds.
What I Love about Swish Mouthwash:
• It has different minty levels to suit individual preferences. My current favorite Swish Mouthwash is Mangosteen Mint. It's not too strong nor too gentle; its mint flavor is just right.
• I like its Surefresh Technology that not only kills bad breath-causing bacteria but also prevents plaque build-up, tooth decay and gum disease.
• It leaves no burning sensation on my tongue every time I gargle because it's alcohol-free.
• It's safe to use, so I allow my 7-year-old son to gargle with Swish Mouthwash, too.
• It's very affordable compared to other brands. The biggest bottle (250ml) costs only Php139.50.
• The smallest bottle of Swish Mouthwash (35ml) is an ideal travel companion.
• It offers long-lasting breath protection.
Have you tried Swish Mouthwash? Which variant do you like the most?