After buying his books and school supplies last week, my almost 7-year-old son told me he didn't want to use his stroller school bag anymore because he said he is no longer a little boy. He actually wants a backpack to use when school opens again in June. Indeed, my boy has grown up so fast! His shirts have gotten tighter, and just the other night, he complained that his pajama trousers have gotten shorter. I'm left with no choice but to buy him new things, and I would have to start looking for a good-quality school backpack.

A friend recommended Posy Lane for
personalized backpacks
, and that's where I went first. It wasn't easy deciding which backpack to choose for my son because Posy Lane has a wide collection of backpacks from toddlers to older boys and girls. Of course, I consulted my son on what color and style he likes. After an hour of debate, we finally agreed to have the
Navy Apple Mint Medium Backpack
.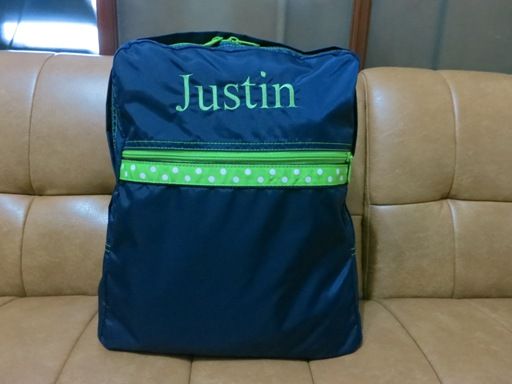 Front and back views of the Navy Apple Mint Medium Backpack
Created with colorful border designs, the
Navy Apple Mint Medium Backpack
($23.25) measures 15" x 13.5". The size is perfect because my son has more books this school year. We put his 8 new books, but there's still a lot of space to fill, so we placed some clothes inside, too, just to see how much stuff this backpack can accommodate. Amazing! This backpack can carry a lot!
Trying on his new Navy Apple Mint Medium Backpack
This backpack is also versatile and multifunctional; it can be used as a school bag or a camping bag. It's made of sturdy nylon, too, so I'm assured that it will last long. It can also be personalized with your son's or daughter's name. I had my son's name sewn onto the upper front portion of the backpack so that there's no chance of others mistaking this bag for their own.
I'm sure my son will enjoy going to school more because he's now the proud owner of this Navy Apple Mint Medium Backpack. That's one task done, and two to go! Now, I'm going to look for personalized lunch totes and bigger pajama pants for my boy. Wish me luck!