We stayed at Golden Pine Hotel for our 3-day, 2-night vacation in Baguio last February. It's a 3-star hotel which is walking distance from Burnham Park. Our stay there included complimentary breakfast for three people; there were four of us (three adults and one kid), so we had to pay for our son's breakfast.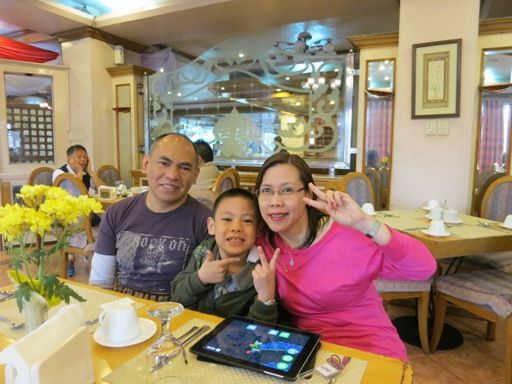 Say cheese!
Hubby chose American breakfast, while I ordered Filipino breakfast for me and our helper. We were actually looking forward to having breakfast at Golden Pine Hotel because we enjoyed the
room-service dinner
we had the previous night.
Bacon with egg and bread toast with butter and jam, with fresh fruit or orange juice and coffee or tea
This wa hubby's choice of breakfast. His plate was wiped clean which only meant one thing: he enjoyed his breakfast!
Daing na bangus with egg, garlic fried rice, orange juice and choice of coffee, tea or hot chocolate
I love
bangus
(milkfish), so this plate's mine. The bangus was a bit sour than usual, but it was tolerable, and I knew that it was freshly cooked because it was hot and crispy.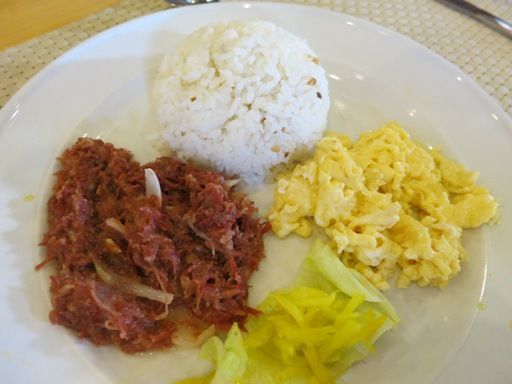 Corned beef with egg, garlic fried rice, orange juice and choice of coffee, tea or hot chocolate
As you can see, they're not scrimping on their servings. You can even order extra garlic rice for the big portions of corned beef on the plate.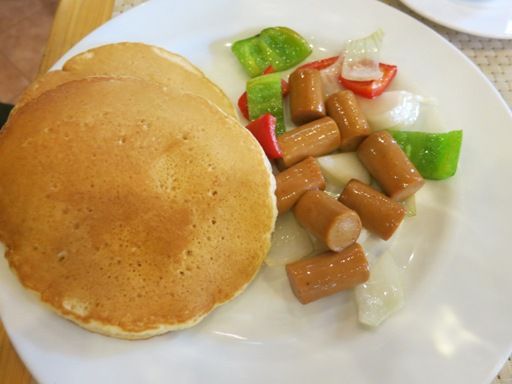 Pancakes with sausage
This was for our little boy. He ate all the sausages but not all of the pancakes because he said he was already full.
Hot chocolate and orange juice
Hot chocolate was perfect for Baguio's cold weather, but we still had an extra glass of orange juice.
If you're ordering a la carte, their American breakfast and Filipino breakfast cost Php200.00 per plate, while their pancakes with sausage (or bacon) costs Php130.00.
Golden Pine Hotel
Cariño corner Yandoc Streets
Baguio City Proper, Baguio/Banaue
Philippines
Telephone No.: +63744449965