Our mall day during the last week of November came earlier than usual, a Friday instead of a Saturday, simply because it was a holiday: no classes for the little boy and no office for his dad. I had work that day, though, but that didn't prevent me from joining them for a hearty family dinner at Burgoo, one of our favorite restaurants.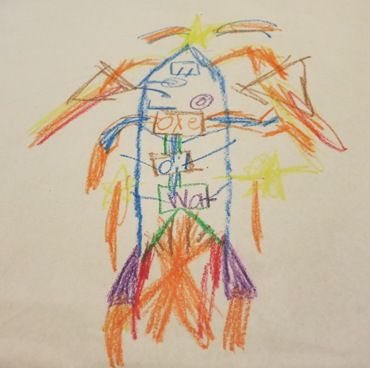 The little boy's drawing: a Burgoo rocket ship!
The little boy was given paper and crayons to keep him busy while waiting for our food, and this was his masterpiece. He asked me to take a picture of it so I could blog about it, so there. Then, it was eating time!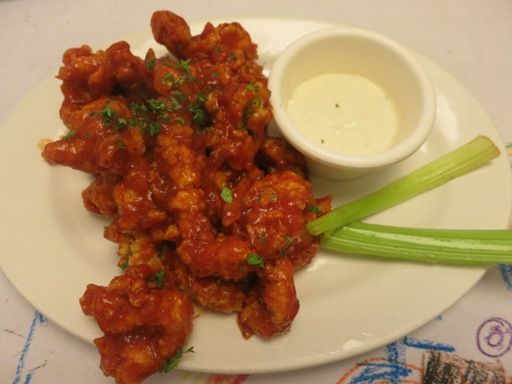 Boneless Buffalo Chicken (Regular), Php325.00
These are deep-fried chicken tenders seasoned with herbs and spices, tossed with spicy buffalo sauce and served with crunchy celery sticks. This was actually free if you order an entrée. It was slightly spicy, but the little boy liked it.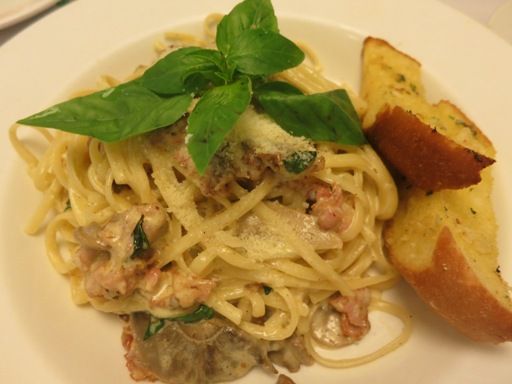 Carbonara (Regular), Php345.00
Because we're not sure if the little boy would eat Seafood Jambalaya (see below), we had to get him his own food, and our safest bet was pasta, so we ordered Carbonara, spaghetti in Alfredo sauce with bacon and sliced mushroom.
Seafood Jambalaya (Large), Php595.00
As you can see, this Seafood Jambalaya is fully loaded. It had mussels, calamari, shrimps, ham, chorizo, green peas, green bell pepper and white onions with Cajun-spiced long grain rice. It was served piping hot, but that didn't stop me from devouring it as soon as it landed on our table. It was really delicious!
We had leftovers that we took home and had for breakfast the next day. The Seafood Jambalaya was still good, and it was all I had for breakfast, while the little boy gorged on the remaining Boneless Buffalo Chicken, which he said was yummy.
Burgoo American Bar & Restaurant
4th Level, Robinsons Galleria
Quezon City
Telephone No.: (02) 633-6256; (02) 633-9565