There's a new toy that keeps father and son rather preoccupied lately. Hubby bought an iPad 3 last Friday. Our little boy was too excited to try it. After having dinner, he immediately downloaded some of his favorite games from iTunes Store.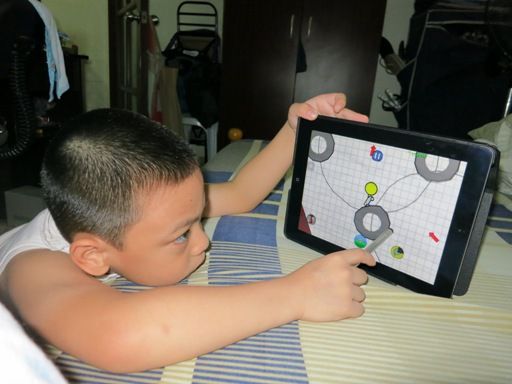 Playing JellyCar
Because his Dad wasn't feeling well, the little boy had the iPad to himself for 3 days, Friday, Saturday and Sunday. He is allowed to play computer games during weekends only, and he certainly maximized that benefit!
Hubby is getting well, thanks to the cough and cold medicines and antibiotics prescribed by the doctor and covered by his health insurance. Now I know nothing about the insurance business, but our health insurance is something I'm really grateful for, especially in times of sickness.
Now back to the topic. Hubby uses the iPad only at night when our little boy is asleep, but last Saturday, he was able to use it while the little boy was playing at the Market Market playground and we were having coffee at the nearby Starbucks.
Reading an ezine
Like father, like son, eh?
I'm sure father and son will be busy tinkering with their new toy in the days to come. What I'm not really sure is how long this new gadget will spark their interest. Well, I'm guessing this will hold their interest until the next toy comes along. Boys will be boys!