Last Saturday and Sunday, March 31 and April 1, 2012, we were at Ascott Makati for my husband's summer company outing. Ascott is located at Glorietta 4, Ayala Center, Makati City. The little boy wanted so much to go to the beach like last year, but he had to make do with a hotel outdoor swimming pool this time. We were billeted in a studio room with a queen-sized bed, fully furnished kitchen with washing machine and iron and a small living area with a flat-screen TV and DVD player. I'll make a review of Ascott Makati in a separate blog post, so watch out for that.
Check-in time was 2pm. The little boy wanted to swim right away, but it was still too hot so he had to wait a few more hours before he could change into his swimwear and bring out his swimming float and Max Liquidator toy (a water shooter).
Getting ready to swim!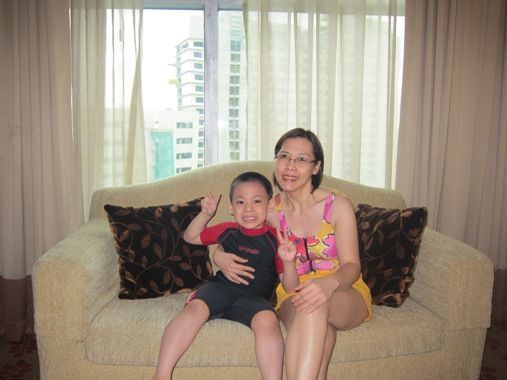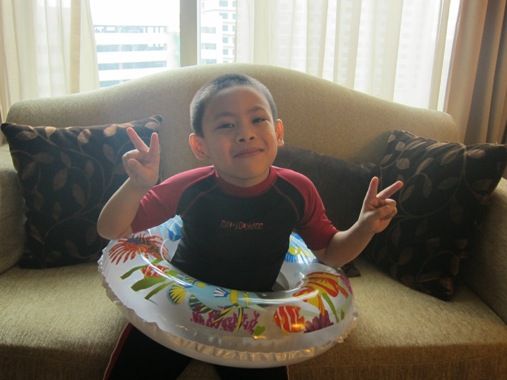 My son enjoyed his time in the pool. The water was so cold, but he didn't seem to mind. He had his swimming float all the time, which gave him the feeling that he was swimming on his own, and he really liked that. Lol! He was swimming in the big pool, by the way, not in the kiddie pool!
The little boy enjoying his time in the pool!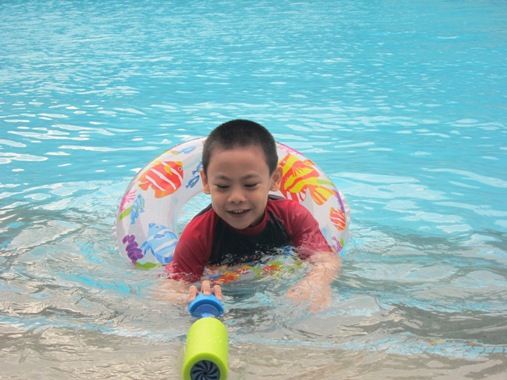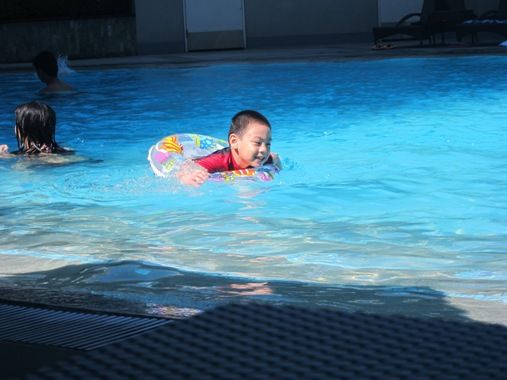 Mommy, on the other hand, found the water too cold, so I had to find a way to warm up and what better way to do that than to soak in the spa/jacuzzi, which is a few steps away from the main pool. It took me a long time to finally submerge myself in the spa/jacuzzi because it was too hot, but once I got into it, it was heaven! I actually didn't want to leave, but I was glad I did because I learned later that night from the hotel's directory and from the Internet that one can't stay too long in a spa/Jacuzzi or that person might suffer from nausea or worse, heat stroke!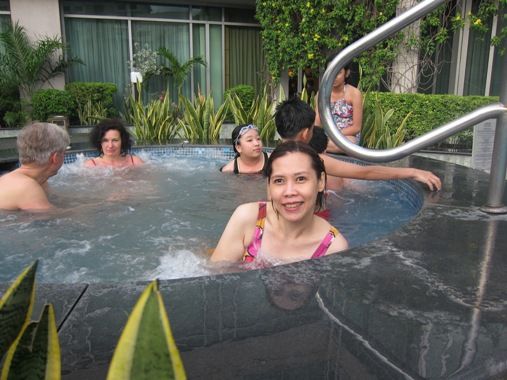 Mommy enjoying the spa/jacuzzi!
By 8am the next morning, my son was ready and raring to go to the swimming pool again. I wasn't able to join him and his Dad this time either to have buffet breakfast downstairs or to swim because well, I have work! Sigh! Well, that's okay. What really mattered to me was how my son enjoyed his swimming time at Ascott. We hope to hit the beach soon!