Because our 5-year-old son likes Ang Panday 2 trailer that he sees on TV, his Dad and I promised him that we would watch this movie. That's exactly what we did the day after Christmas. We trooped to Robinsons MovieWorld with our bags of popcorn and chips coupled with ice-cold lemonade and Tropicana juice. Oh wait, father and son each had large Twistix potatoes, too! Our movie-watching actually turned into a picnic. LOL!
My little boy's reaction showed that he enjoyed the movie. His eyes would light up and he would say "Yes!" whenever Flavio would defeat the bad guys.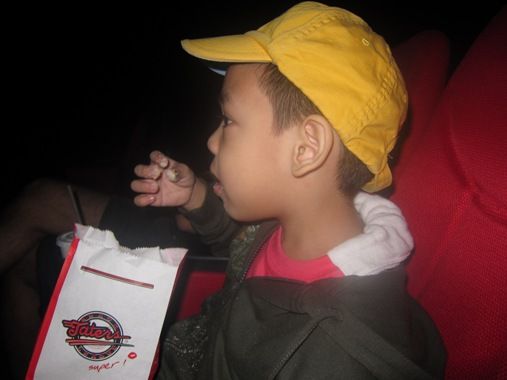 Picture taken inside the movie house
As for the adults, we liked the visual effects, but found the story a bit weak, particularly the part that shows the change of heart of the Ragona. Ragona is the term used in the movie for the dragon people. This is the clan to which Arlana a.k.a. Bagwis (Marian Rivera) belongs.
Initially, they were averse to fighting; they wanted nothing to do with Flavio's crusade against Lizardo. They did a 180-degree turn, however, when Arlana's mother (Alice Dixson) and sister (Kris Bernal) perished because of Lizardo.
However, I didn't see them battle with the enemy. Seeing these colofrul characters in action would have added more excitement to the story and would have convinced the audience that indeed, they were now ready to fight for justice and peace. Well, that's just my two cents.
Have you watched Ang Panday 2? What can you say about this movie?
Ang Panday 2 is the entry of Imus Productions and GMA Films to the 2011 Metro Manila Film Festival. The movie was directed by Mac Alejandre.