EVENT: PMC's 2nd Grand Eyeball
DATE: November 22, 2011
VENUE: Aling Tonya's Seafood Restaurant, Seaside, Macapagal Boulevard, Pasay City

I wasn't able to attend the first grand eyeball of the Pinay Mommies Community (PMC) on April 3, 2011 because we were celebrating my mother's 60th birthday on that day, exactly nine months after she had her quadruple bypass surgery.
I missed out on a lot of fun then, so I promised myself that whatever happens, I will be present in the second grand eyeball. I made it to this event despite heavy traffic and unpredictable weather, carrying one small paper bag that held my tokens (luggage tags) for all the PMC members who would be joining this event.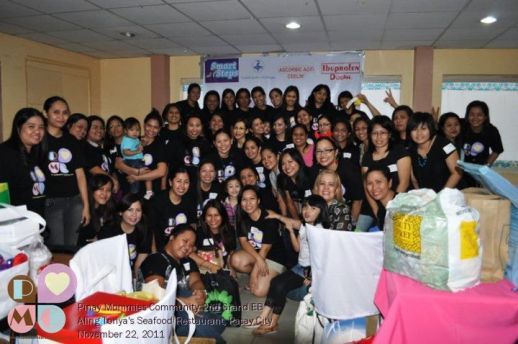 The lovely PMC members!
Forty-eight mommy bloggers from different parts of the world (U.S., Canada, Germany and the Philippines) graced the event with their presence. There was an abundance of food, laughter, and chatter in this event, plus raffle prizes and giveaways.
What is PMC?
Pinay Mommies Community (PMC) is a continuously growing community of Filipina mothers who blog. These moms help each other grow as bloggers through various fun activities. Ruby Ricafrente (known to all as Mommy Rubz) of Pinay Mommy Online created PMC on January 21, 2008.
Mommy Rubz, PMC founder
Mommy Ruby talked about how PMC started and announced the launch of
PR Moms Network
and the appointment of Pehpot Pineda of
Make or Break
as its Public Relations Officer.
Food
Of course, a special occasion wouldn't be complete without good food, and that's exactly what we had at Aling Tonya's Seafood Restaurant, a hearty lunch!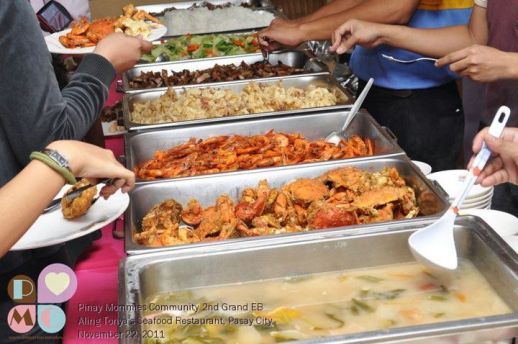 Chow Time!
Sponsors
Our generous sponsors also made this event super fun and exciting for all the moms (and their families) present.
Major Sponsors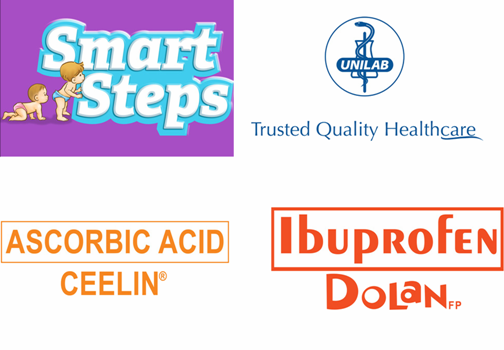 Smart Steps
gave away Smart Steps Baby Laundry Detergent, Smart Steps Baby Fabric Conditioner, Smart Steps Baby Bottle Cleanser, Holy Seat Disposable Toilet Seat Cover and Holy Seat Handy Spray Toilet Seat Sanitizer to all moms.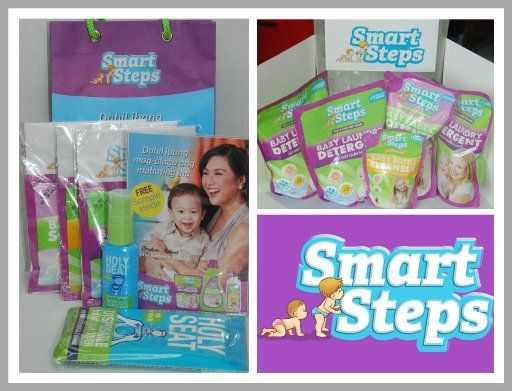 Some of their products were raffled off, too.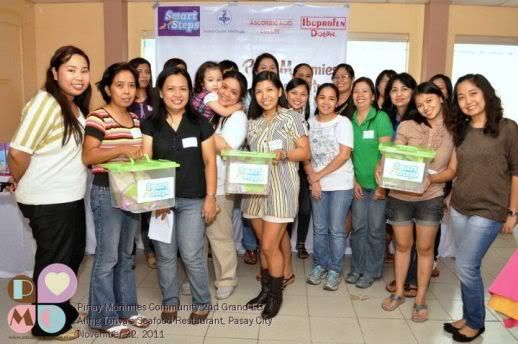 Smart Steps winners, batch 1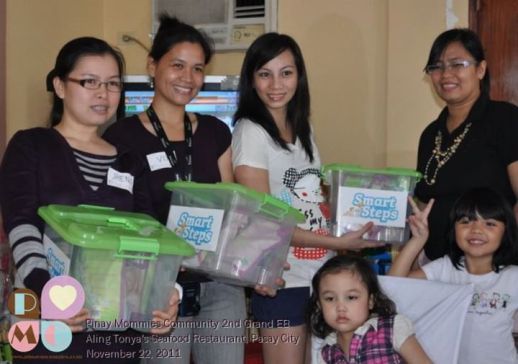 Smart Steps winners, batch 2
Unilab
, a trusted name in providing safe, effective and affordable pharmaceutical products, also prepared loot bags for all the PMC members present. These loot bags contain the following: 500ml bottle of Ceelin, Rashfree, Loperamide Diatabs, Multivitamins Enervon, Dolan FP Forte, tumbler and pencil case with pencil.
They also gave away several Unilab, Dolan and
Ceelin
gift packs as raffle prizes.
Unilab raffle winners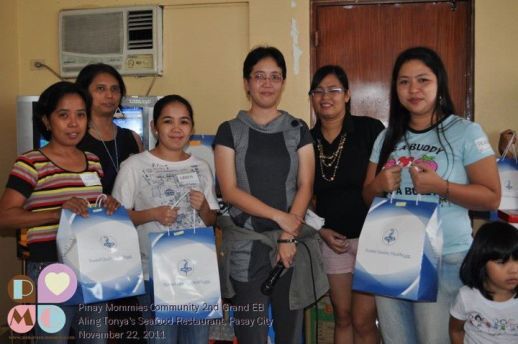 Dolan raffle winners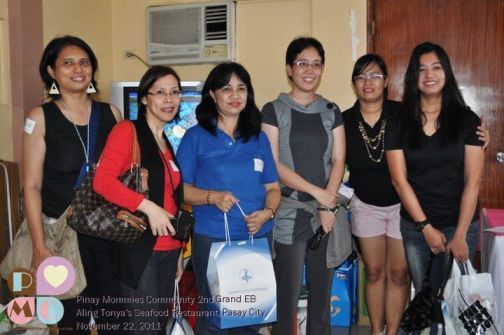 Ceelin raffle winners
I was so happy when my name was called as one of the lucky Ceelin gift pack winners. It's as if Unilab knew my son badly needs those huge bottles of Vitamin C during this season for allergies. I wrote a separate post about this
here
.
Minor Sponsors

Our minor sponsors, on the other hand, gave away the following items: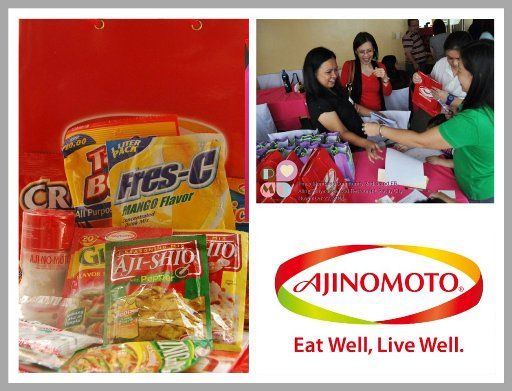 From Ajinomoto:
Ajinomoto Umami Seasoning, Crispy Fry Garlic Breading Mix, SoQuick Marinade Mix, Tasty Boy All Purpose Breading Mix,
Fres-C Concentrated Drink Mix, Ajinomoto Sinigang sa Sampalok, Ajinomoto Sinigang na May Miso, Ajinomoto Ginisa Flavor Seasoning Mix,Aji-Shio Seasoning Mix and Pal Sweet Calorie Free Sweetener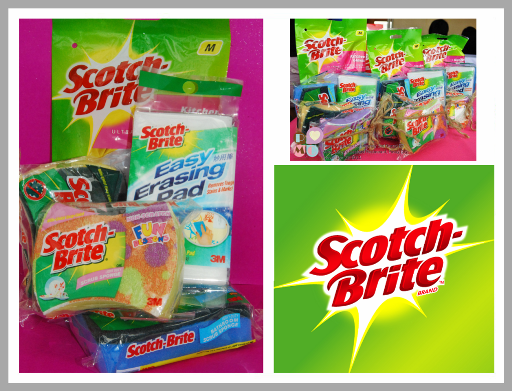 From Scotch-Brite:
Scotch-Brite Kitchen Gloves, Scotch-Brite Easy Erasing Pad, Scotch-Brite Heavy-Duty Bathroom Scrub Sponge, Scotch-Brite Heavy-Duty Anti-bacterial Scrub Sponge and Scotch-Brite Light-Duty Scrub Sponge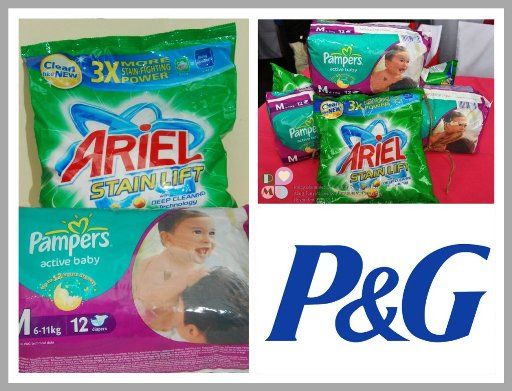 From P&G: Ariel Stain Lift and Pampers Active Baby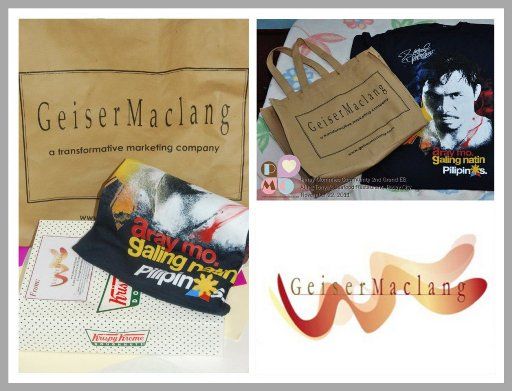 From Geiser Maclang: A box of Krispy Kreme doughnuts and an Alaxan/Pacman shirt
Minor sponsors who raffled off some of their products were
Ainon
,
Avon
and
Drypers
.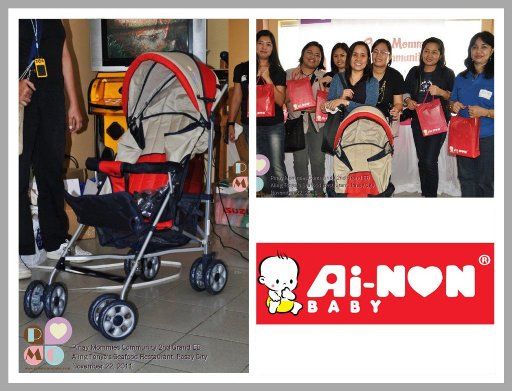 Ainon gave two strollers, but PMC decided to give these to charity this December. They also raffled off some of their products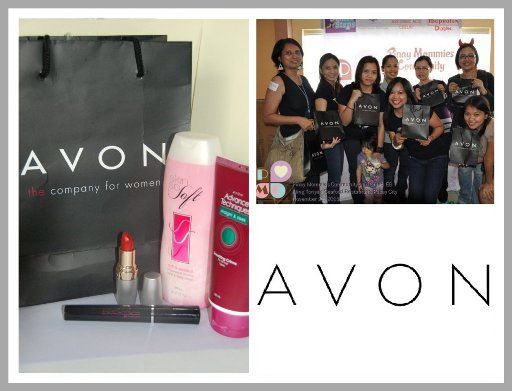 Avon raffle prizes and raffle winners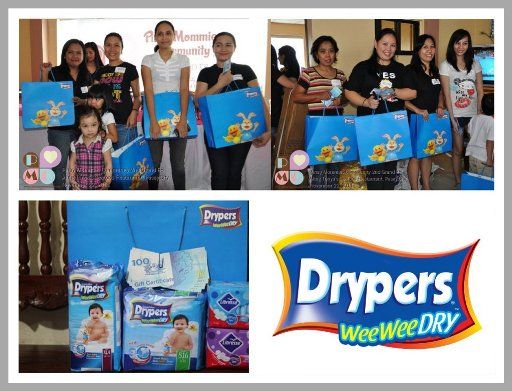 Drypers raffle prizes and raffle winners
Other sponsors included
Richwell
and
Grendha
. Richwell gave away Barbie and Hotwheels toys, while
Grendha
pledged a few pairs of their fashionable footwear to be delivered to the houses of the winners.
World of Wellness
gave away some of their products, too, as raffle prizes, while
Goldquest Biotechnologies
sent cash that was added to the PMC 2nd Grand Eyeball fund.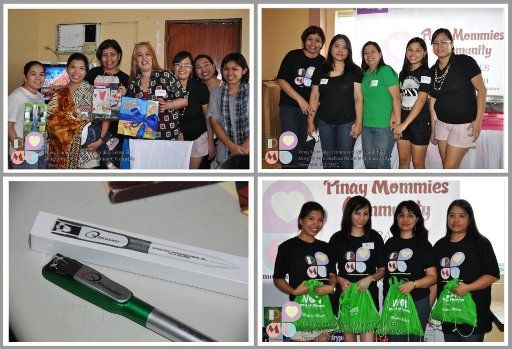 The event was hosted by Ning and Cielo. Rossel, Levy, Nina, Mae, Maricel, Kaye and Fedhz were in charge of registration and loot bags distribution, while Cecile, Olga and Gene helped with the products display needed for the program.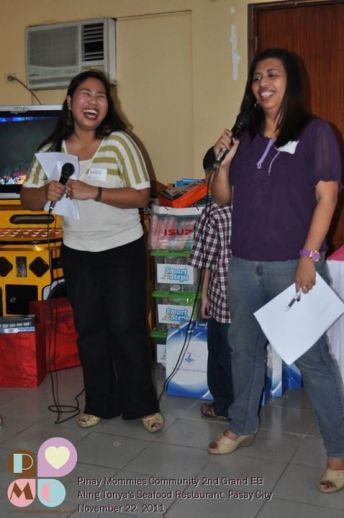 Event hosts: Ning and Cielo
KrazyPix Photobooth
was also there to capture funny and wacky pictures of PMC moms. KrazyPix Photobooth is a portable photo booth for all occasions.
All the PMC members went home with smiles on their faces because aside from the good food, the hearty laughs and chit-chat and the raffle prizes and giveaways, they took home these tokens from fellow PMC members, too.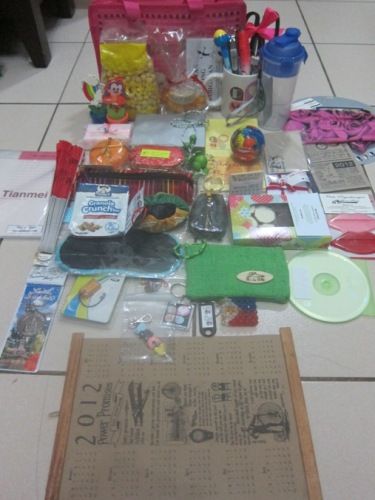 Tokens from the PMC members!
What more we can we ask for but a 3rd PMC Grand Eyeball!
Many thanks to Mauie, Eihdra and Pehpot for the wonderful photos used in this post.