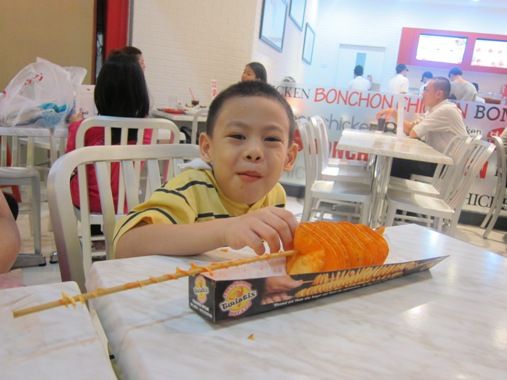 This picture of my five-year-old son was taken last July. We were dining at
BonChon Chicken
, but the little boy was busy nibbling on his favorite
Twistix
potatoes. These are thinly sliced potatoes on barbecue stick, deep-fried and sprinkled with your choice of flavor. He likes ketchup flavor for his large stick of Twistix potatoes, but the last time we bought Twistix, they were not offering that flavor anymore, so my son opted for cheese flavor instead. He liked it, too!
As you can see, nothing matters to this little boy but his Twistix potatoes. Not even toys, his Dad's gadgets, discount computers or Tom's World can take his attention away from his favorite potato snacks.
Do you like Twistix, too?