The package below arrived on August 8, 2011. It contained the NSO birth certificate of my son. This was one of his requirements for big school, and I needed to get it fast. It's a good thing that I could request for this online through NSO Birth Certificate Delivery as I didn't really have time to go out and wait in long lines to secure a copy of this document.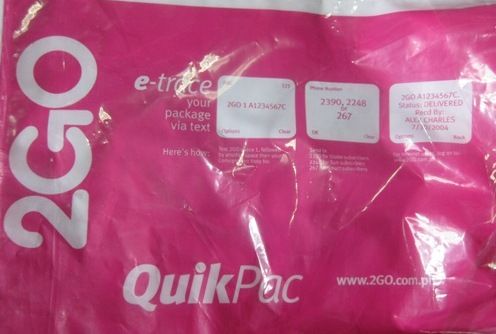 Here's what I did:
1. I called their hotline: 737-1111.
2. I provided the following information to the Customer Care Officer: complete name of my son, date of birth, place of birth, father's name, mother's name, contact number, delivery address, purpose of document and who's going to receive the document.
3. The Customer Care Officer gave me the reference number for my order.
4. I paid online.
For online payment:
1. Go to http://nso.citizenservices.com.ph/.
2. Click on "Online Payment" on the lefthand corner of the page.
3. Write the reference number in the space provided, then click on Submit.
4. Choose your mode of payment (BancNet, Visa, MasterCard, American Express, JCB).
5. Make payment by filling up the following details: Cardholder Name, Card Number, Card Check Code and Expiry Date.
6. Click on "Confirm Payment."
For payment to Metrobank:
1. Use the green payment slip.
2. Fill up the following information:
Company Name: NSO Helpline
Subscriber/Reference No.: 10- digit Reference Number (Very important)
Amount Due: Php330.00
Account Name: Requesting Party's Name
For payment to Bayad Center:
1. Use the white payment slip.
2. fill up the following information:
Biller: NSO Helpline
Date: Payment Date
Account Number: 10-digit Reference Number (Very important)
Amount Due: Amount to be paid (Currently, Php330.00)
Account Name: Requesting Party's name.
According to their website, "You'll get your certificates delivered to your doorstep in 3-4 days. Well, I got mine in just two days. I'm so happy with their service, and I highly recommend them to my readers.
National Statistics Office (NSO) Birth Certificate Delivery Service provides nationwide door-to-door delivery of your copy of birth certificates, marriage certificates, death certificates and certificates of no marriage (CENOMAR) in the Philippines. They are open 24 hours a day, 7 days a week, even on Sundays and holidays. For follow-up, you may call 737-1112.