I just had a very relaxing foot spa with pedicure last Sunday at the newly opened salon on the ground floor of the condo building where we live. The place is called Arti's Salon. They pride themselves on being "A Salon with Art." I find that description intriguing.
As you can see, those who go there to have their hands, feet and nails pampered are seated on a La-Z-Boy recliner. According to my research, a La-Z-Boy recliner provides total body and lumbar support in all positions. It also has a multi-position footrest for ultimate comfort and relaxation. That was neat!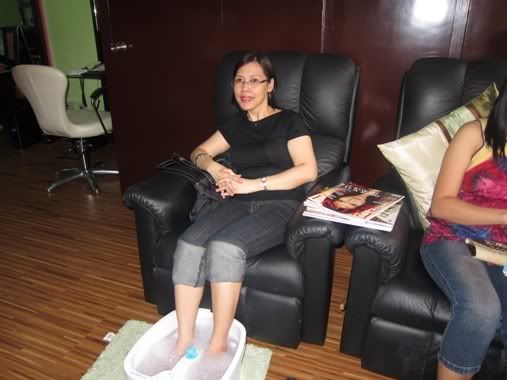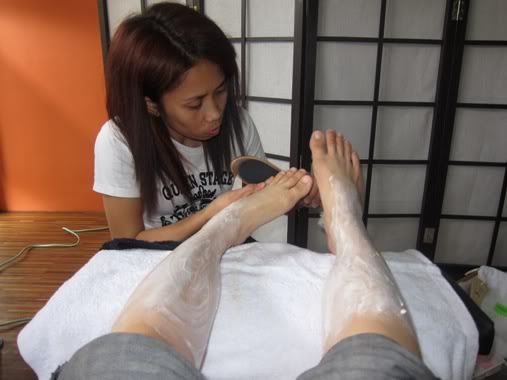 First, my feet were soaked in warm water for a few minutes. This was done to relieve achy feet and also to soften skin and remove bacteria on the feet. Then, foot scrub was applied on my feet and lower legs to remove dead skin cells and help promote healthier skin cells. A foot mask was then applied to moisturize the skin. Finally, a foot file was used to get rid of rough skin.
I spent almost an hour and a half at Arti's Salon to have my foot spa and pedicure plus manicure done. I liked the fact that the one who attended to me was not in a hurry to get things done. The cool background music playing made for an even more relaxing stay at the salon.
One of the staff even asked me what I wanted: coffee or tea. He said that's part of their service, too. Customers can also surf the Internet for free while having their hair and nails done.
I paid Php300.00 for foot spa with pedicure and Php100.00 for manicure, not bad for good customer service and a very nice and cozy ambiance.