After spending three years in preschool, my husband and I believed our son was ready for big school. In 2012, Justin took the entrance test for Kinder 2 in the school of our choice early and enrolled early, too. On the first day of classes, I accompanied him to school to get a feel of his new environment and to see if he was comfortable being around new people in a place a little farther from home.
To be honest, I was quite apprehensive for my son because he was a newcomer in school. It seemed everyone in class knew each other already as they have been with the school one year ahead of my son. Justin didn't know anyone in class, so he just sat on his seat and waited for their teacher.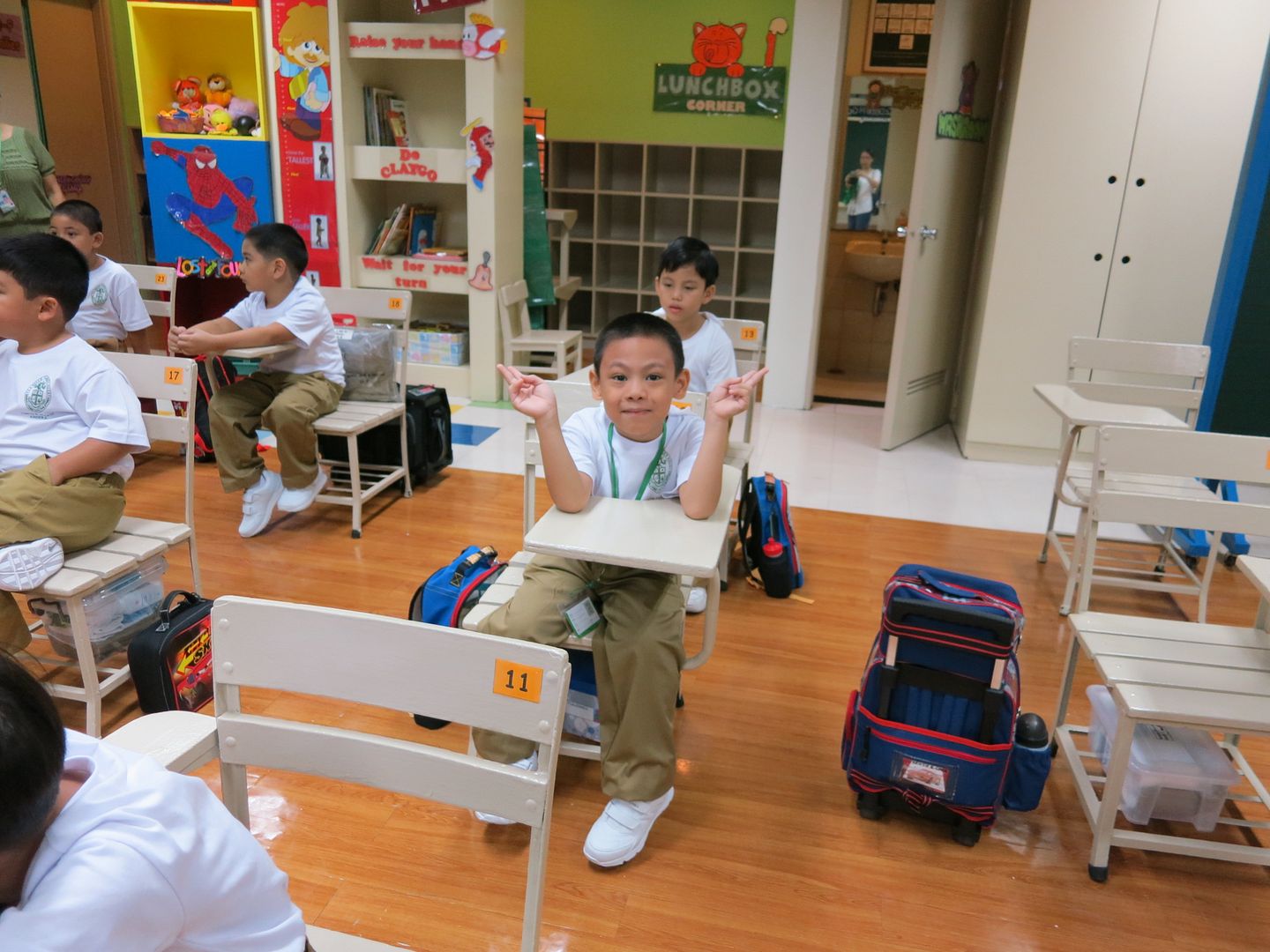 His first day in big school as a Kinder 2 pupil
As his mom, I knew it would take a while before my son could adjust to the new set-up. Being in big school means longer hours in school, more school work, less playtime, and no more mom waving at him outside the window during class.
In big school, parents are only allowed to accompany their children to class on the first day, unlike in preschool where parents can occasionally check on their children in school and peep through the glass window to see how their kids are doing.
On his second day in class, only the kindergarten pupils were allowed to enter the gate. The parents had to stay behind. I could see sadness and apprehension in my son's eyes as I planted a kiss on his cheek and waved goodbye. He kept looking back at me as he walked towards his classroom with the same forlorn look. His struggle was real, and it was heartbreaking!
When he went home that day, he told me that he cried in school because he was missing me. He said he was consoled by a classmate whose name he remembers very well to this day. "It's okay, Justin. Don't cry." Those were his classmate's exact words that made Justin felt at ease. That classmate became his first-ever friend in big school.
It took a week or two before Justin overcame separation anxiety, and before long, he was already enjoying big school and looking forward every day to seeing his classmates and their homeroom adviser. I couldn't be happier for him because he finally overcame his first biggest challenge in life.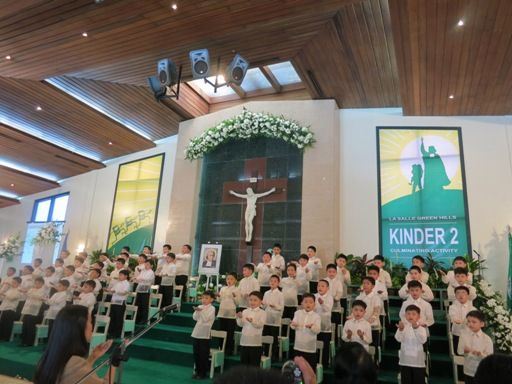 And this mom got the biggest surprise of her life during my son's
Kinder 2 Culminating Activity
. Justin received the highest academic award for their batch! Aside from getting the Gold Medal for General Academic Excellence for Kinder 2, he also received 7 more medals. It was awesome! His homeroom adviser kept this a secret from me.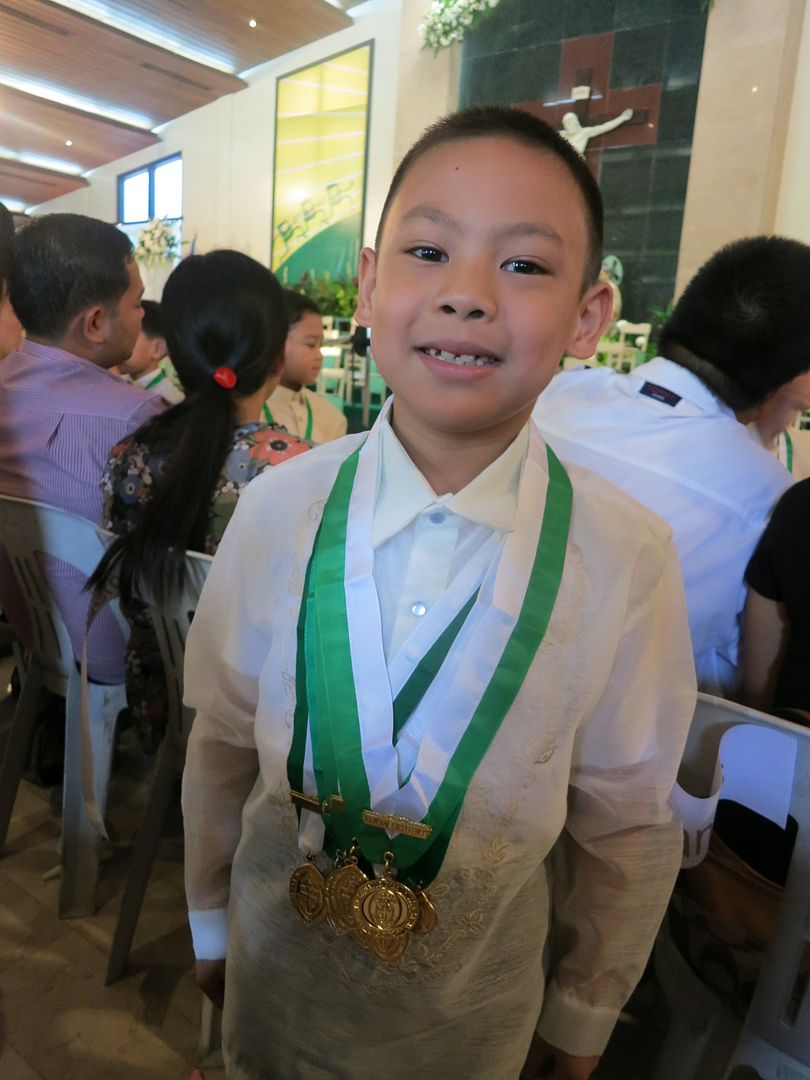 It was a momentous occasion! Knowing that our son was excelling in his class was just icing on the cake. Seeing him enjoying his stint in big school and conquering his biggest fear was enough for his dad and me. With or without medals, we love our son the same.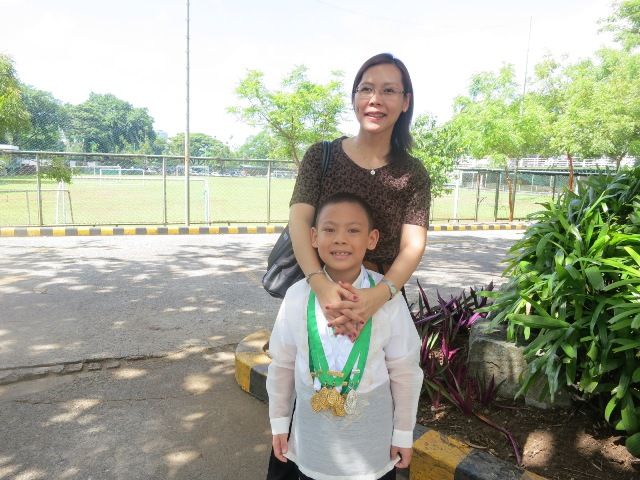 While my son has conquered his life's first biggest challenge, there's still a long way to go. Conquering his fear of big school is just one of the many obstacles that he will have to hurdle in this lifetime. But he won't face all those difficulties alone, no not just yet, because his dad and I will always be here – well, for as long as life allows us to be present for him – to guide him, support him and love him.
Why am I telling this story? Because I recently came across this TV commercial from McDonald's that rings a universal truth as far as all moms and dads are concerned. The commercial shows that no matter what our kids do, whatever shortcomings they have, and whether they finish first, last or not at all, for us parents, our kids are the best.
What about you? What was your child's first win in life?
Visit McDonald's Philippines on Facebook, Twitter and Instagram for their upcoming campaigns and promos.