Nutramedica, Inc. President and CEO Sheila Mae Velilla bagged the Outstanding Achievement in Entrepreneurship – Medium Scale at the 37th Agora Awards held last October 26 at PICC, CCP Complex. A homegrown 100% wholly-owned Filipino enterprise, Nutramedica manufactures and distributes Novuhair, an acclaimed line of products that provides solutions for hair loss problems.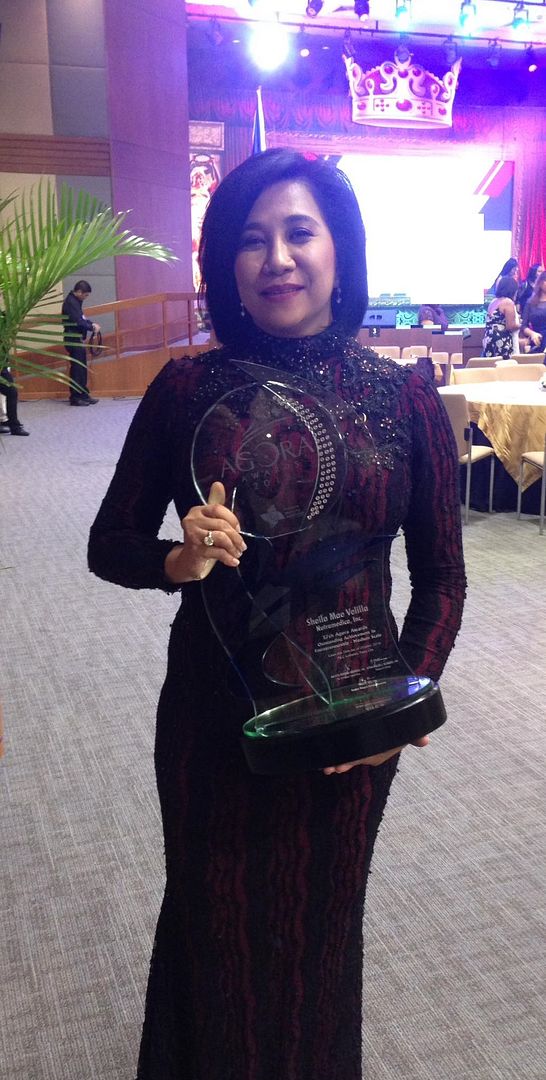 Ms. Sheila Mae Velilla, Nutramedica, Inc. President and CEO
The
Agora Awards
is a leading marketing awards body in the Philippines which sets the high standards of excellence in the industry. It recognizes individuals and organizations for exceptional marketing skills and strategies.
FROM MICROENTERPRISE TO MEDIUM SCALE
Founded in 2004 by Velilla, Nutramedica started as a small business venture. With creativity and innovation, however, it soon ecame a major player with a well-established niche in the industry.
Nutramedica develops beauty and healthcare products from natural and mostly indigenous ingredients. It is one of the pioneers in the commercialization of virgin coconut oil (VCO), gaining wide success with its slogan "healthiest oil on earth," which led to its acquisition by a big company.
Nutramedica continued to create more VCO-based skin care products and hit the jackpot with its latest, and now banner, product – Novuhair, nature's answer to hair loss, which was launched in 2009. Made of 19 herbal ingredients, this breakthrough solution comes in topical scalp lotion, herbal shampoo and herbal conditioner that effectively battles the effects of hair loss and helps enhance and restore one's crowning glory.
Novuhair is widely accepted not only here in the Philippines, but also in other countries. It will be launched internationally, starting with the United States (US), this month. It will also be exported to the Middle East soon.
Novuhair's popularity and market leadership may be attributed to the company's initial market study coupled with the right timing, as well as its smart use of resources with its effective tri-media campaign best described as low-budget yet high-impact marketing.
Nutramedica now has over 30 employees. Now on its 12th year, it continues to further develop, market and distribute high-quality goods that could bring honor to the country.
The company faithfully adheres to best business practices, such as provision of high quality products and excellent services, adaptability to market trends, constant innovation, diversification of trade and giving back to society.
"Great things in business are never done by one person, they are done by a team of people", Velilla quotes Steve Jobs when asked what's her secret to success in this competitive business of beauty and healthcare.
"We at Nutramedica also adhere to our core values of integrity, trust, fairness, discipline, humility, leadership, teamwork and faith in God. That's our winning formula," Velilla further adds.
Novuhair Topical Scalp Lotion, Shampoo and Conditioner are available in all Mercury Drug Stores and other leading drug stores nationwide. For more information, visit www.novuhair.com, like the brand's official Facebook Page, follow it on Twitter (@NovuhairNatural) and on Instagram )@novuhairofficial). You may also call the Novuhair hotlines at 4136570 and 09228830575 and order online at Lazada and regaloservice.com.