One more week before December — there's really no escaping Christmas. Don't get me wrong, I love Christmas. It's actually my favorite time of the year. In the past, when I was still part of the corporate world, I looked forward to receiving my 13th month pay because that's where I would get my budget for the Christmas holiday.
A big portion of my Christmas bonus would be spent buying Christmas gifts for family (real and extended) and friends. I love giving gifts more than receiving them, but gifts are always welcome, thank you! Christmas simply brings out my generous spirit. I sometimes forget to buy things for myself. Lol!
This Christmas, though, will be a lot different than the previous years as I took a hiatus from work earlier this year. That means the money I'll spend for gifts this Christmas will solely come from our magnanimous Santa Claus in the house, my husband. Don't worry, hubby, it's only for this year. Lol!
I haven't completed my Christmas shopping list yet, but I'm already checking out items at various shops and stores. I want the recipients of my Christmas gifts to smile when they open their presents and really enjoy the things I give them. Seeing their faces light up as their presents are revealed makes all the money and energy spent on obtaining those gifts all worth it.
So what will I give my loved ones this Christmas? I know my parents will appreciate cash so that's what we're giving them. I will buy practical stuff for my siblings, something they can use at home or in the office, like a really beautiful coffee mug to perk up their mornings or cool planners/organizers to help them track their daily activities.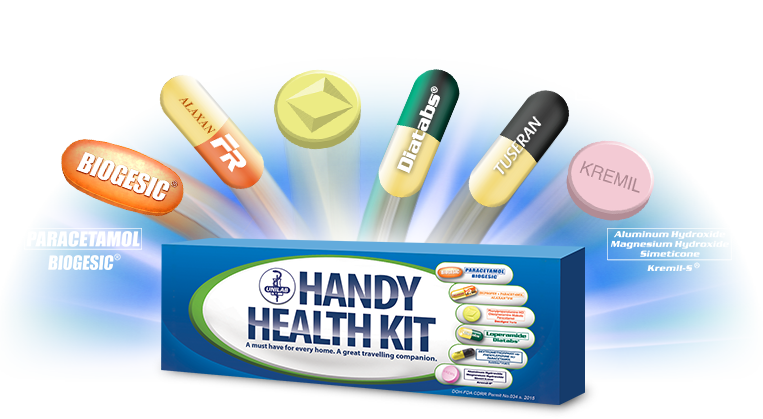 One of my nieces loves
kikay
stuff, so I'm getting her a glittery purse. Her younger sister, a nurse, will definitely appreciate a
Unilab
Handy Health Kit
(with the following medicines: Alaxan FR, Diatabs,
Biogesic
, Tuseran Forte, Decolgen and Kremil-S) to keep her from getting sick during hospital duty. I'm thinking of buying my two teenage nieces personalized bracelets and/or necklaces and for my nephew, a cool, sturdy backpack.
So what are you giving your family and friends this Christmas?