It's not easy being a mom, especially of infants and toddlers. It's a rollercoaster ride of sleepless nights, crying bouts, dirty bottles and soiled diapers. I should know! Been there, done that, almost gave up but survived.
EQ Diapers understands the struggles mothers go through every day and rewards these hardworking moms with special treats.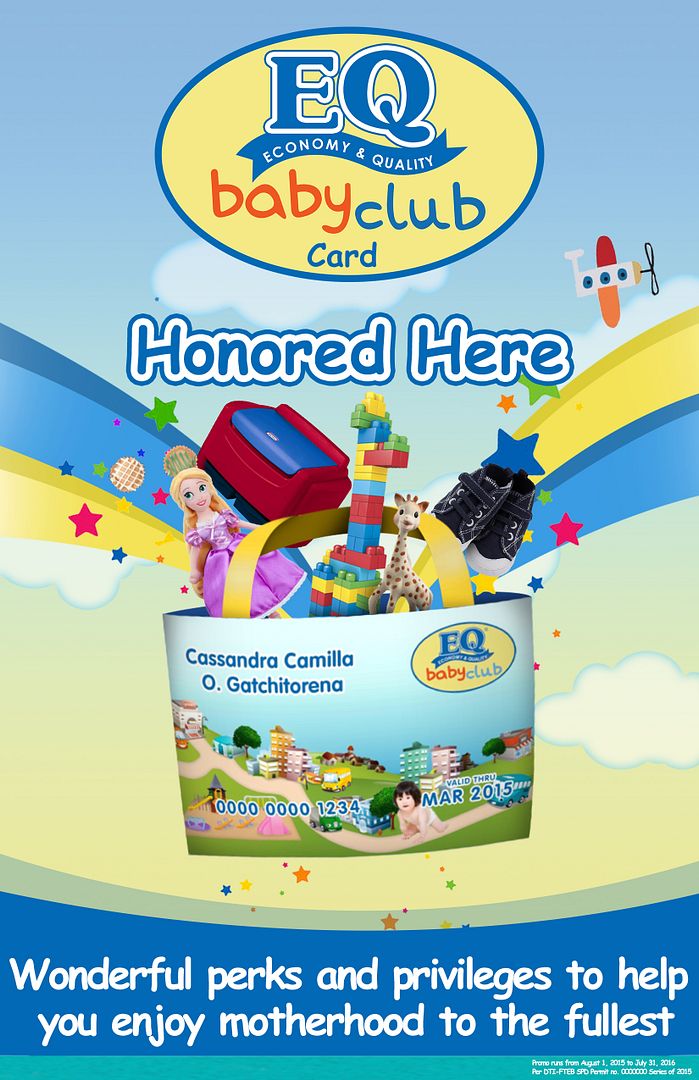 Beginning June 2015, all EQ Baby Club members are entitled to get exclusive perks and privileges from EQ Diapers' partner merchants! Isn't that great?
Committed to making motherhood a joyful and memorable experience, EQ Baby Club has partnered with selected merchants so that moms can enjoy themselves and their time with their loved ones even more.
As an EQ Baby Club member, you will get discounts and freebies from various fashion, lifestyle, food and leisure brands. Just show your EQ Baby Club ID in partner establishments to enjoy these perks.
How do you become a member of the EQ Baby Club? Simply buy any of the three EQ diaper variants (EQ Dry, EQ Colors and EQ Plus) and register online and on-site via selected EQ baby Care registration booths. Activate your membership online and get your EQ Baby Care card. Easy-peasy!
Combining economy and quality, you will surely get your money's worth with EQ Diapers, plus all of these wonderful perks and privileges!
Check out posters and flyers for more details and visit EQ Baby Facebook page for updates.