Asia E-Commerce Expo 2015 (#AECoE) is happening at SMX Convention Center, Taguig from 8AM to 6PM on November 25, 2015. More than 20 speakers and 300 attendees are expected, plus 30 exhibitors will showcase their products and services at the expo.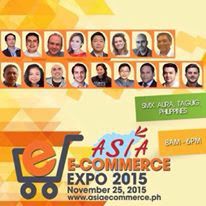 #AECoE aims to empower and inspire the startup innovators and traditional organizations to adapt E-Commerce and to learn from sessions and discussions about EPrivacy, Elogistics, EPayments, Market Analysis, Digital Marketing, CRM, Strategy, E- Commerce and Going Global.
"Pitch In" Opportunity
Ten (10) Startup Innovators who submitted their profiles to #AECoE will be given a chance to talk about their organizations. Each startup company will have 5 minutes to present their innovation, company profiles, and products and services to everyone. This will give them a chance to meet prospective business partners.
Those interested in the "Pitch In" Session can still submit their profile on or before September 30, 2015. The chosen companies will be included in the program/agenda.
Speakers and Moderators

Here are the confirmed speakers for the expo:
• Constantin Robertz- Managing Director, Zalora
• Lars Jeppesen- CEO, Tech One Global
• Jacqueline Van Den Ende- Managing Director, Lamudi
• Kristian Melquiades- General Manager, Viber
• Janette Toral- Founder, Digital Club Filipino
• Subir Lohani- Managing Director, Carmudi
• Chinkee Tan- Book Author and Radio Host
• Robert Yupangco- CEO, Yupangco Group of Companies
• Frederic Levy- Founder & CEO, CashCashPinoy
• Camille Montejo- CEO, Tree Top Adventure Inc.
• Bjorn Pardo- CEO, Xend Business Solutions
• Quentin Boucher- Managing Director, Ensogo
• Amor Maclang- Director for Communications, Geiser Maclang Marketing Communications Inc.
• Mannix Pabalan- CEO, Hashtag Digital
The moderators will be:
• Chris Kiklas- President, EmLogis
• Pocholo Gonzales- CEO, Creativoices Production
• Spanky Enriquez- Corporate Communications Consultant
Registration fee is Php 3,000.00 inclusive of the following: snacks, elegant buffet lunch, conference and expo.
How to Register
1. Deposit the registration fee to TAG Media and Public Relations BPI Checking Account # 1680 0010 29.
2. Scan the deposit slip.
3. Send the scanned copy to maria@asiaecommerce.ph.
For more information, please visit http://www.asiaecommerce.ph. For partnership/sponsorship inquiries, you may contact the organizer at 09166299381 or at maria@asiaecommerce.ph.