Amidst throngs of well-wishers at Villamor Airbase, Pope Francis, the People's Pope, left the Philippines earlier today. I know a lot of hearts were saddened by his departure. I am one of them. While I wasn't fortunate enough to see him in the flesh during his 3-day visit in the Philippines, I am quite aware and overwhelmed by the millions of lives he has touched and by the sincerity of his smile, words and actions.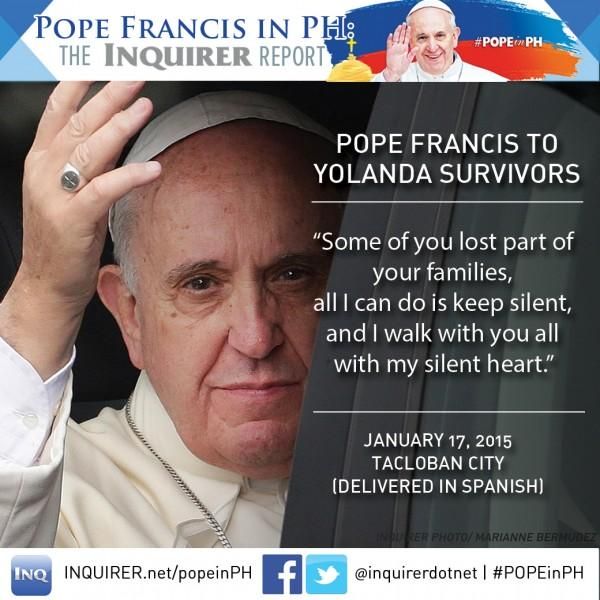 Photo credit: www.inquirer.net
Here is a man who was deeply moved by the sad plight of our
kababayans
who were hardly hit by typhoon Yolanda last 2013 that he had to come to our country to comfort the weary and to instill hope in the hearts of those who feel neglected, those who are hurting, those who are burdened, and those who feel weak and helpless. Here are excerpts from Pope Francis's homily at the mass he celebrated in Tacloban City airport for the survivors of Yolanda, lifted from the
Philippine Daily Inquirer
:
I'd like to tell you something close to my heart. When I saw from Rome that catastrophe I had to be here. And on those very days I decided to come here. I am here to be with you – a little bit late, but I'm here. I have come to tell you that Jesus is Lord. And he never lets us down. Father, you might say to me, I was let down because I have lost so many things, my house, my livelihood. It's true if you say that and I respect those sentiments. But Jesus is there, nailed to the cross, and from there he does not let us down. He was consecrated as Lord on that throne and there he experienced all the calamities that we experience. Jesus is Lord. And the Lord from the cross is there for you. In everything the same as us. That is why we have a Lord who cries with us and walks with us in the most difficult moments of life.
So many of you have lost everything. I don't know what to say to you. But the Lord does know what to say to you. Some of you have lost part of your families. All I can do is keep silence and walk with you all with my silent heart. Many of you have asked the Lord – why lord? And to each of you, to your heart, Christ responds with his heart from the cross. I have no more words for you. Let us look to Christ. He is the lord. He understands us because he underwent all the trials that we, that you, have experienced. And beside the cross was his Mother. We are like a little child in the moments when we have so much pain and no longer understand anything. All we can do is grab hold of her hand firmly and say "Mommy" – like a child does when it is afraid. It is perhaps the only words we can say in difficult times – "Mommy".

How can we Filipinos forget Pope Francis? We cannot. The Holy Father's visit to the Philippines and his messages of love will forever remain in our hearts. We love you Pope Francis!