After its successful launch in Metro Manila last October 23, 2014, the National Nutrition Council (NNC) pushes its "10 Kumainments" campaign to all 17 regions of the country with the help of local government units or LGUs.
The campaign, which provides simple guidelines to help Filipinos combat unhealthy diet, has been translated into local dialects, like Cebuano and Ivatan. The NNC-ARMM (Autonomous Region in Muslim Mindanao) also made a transliteration of these guidelines in Arabic, called the Nutritional Guidelines for Muslim Filipinos, which cites teachings in the Qur'an that show support for each of the guidelines.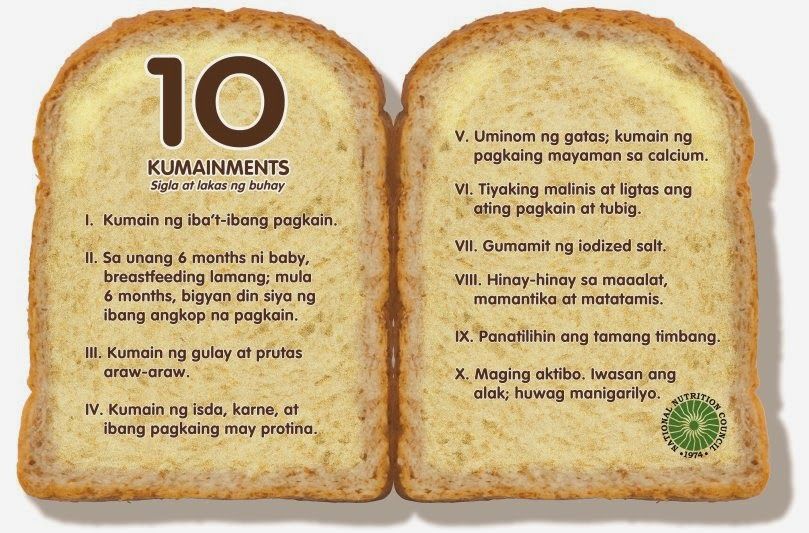 The program aims to improve the nutritional status of Filipinos, which has been compromised by lack of food or excessive food, unhealthy eating habits and a sedentary lifestyle, which in in turn leads to the rise of non-communicable diseases, like cardiovascular and respiratory disorders, cancer and diabetes.
"Filipinos love to eat, especially during the holiday season. That is why it is very important to remind Filipinos that they should not compromise their health while celebrating in countless office parties, family reunions and dining out opportunities this season," said Assistant Secretary of Health Maria-Bernardita T. Flores, Executive Director of the NNC.
"The NNC's 10 Kumainments were derived from the 10 Nutritional Guidelines for Filipinos (NGF) developed by aninter-agency Technical Working Group through the Food and Nutrition Research Institute of the Department of Science and Technology and have been popularized this year with an easy-to-remember format and a more relatable approach. These are the primary recommendations for nutrition and healthy lifestyle in order to attain good health," she added.
The 10 Kumainments are like the biblical Ten Commandments, and because they are, a character named Moises Dalisay or "Mang Moi" was developed, molded after the Biblical Moses, who now promotes the 10 Kumainments in media and in communities.
To push this nutritional awareness campaign, the NNC will work together with various government agencies this year for the issuance of department circulars and memos to encourage the use of the 10 Kumainments. Restaurants, groceries, supermarkets, dining places and other public places will be included in the campaign to constantly remind Filipinos to pursue healthy eating and an active lifestyle. For Filipinos living abroad, a more aggressive and extensive dissemination of the 10 Kumainments will be done through Philippine embassies and consulates and the Internet.
"We encourage all Filipinos to follow the 10 Kumainments so that they can influence proper nutrition behaviours and to also be able to help reduce the risk of malnutrition and non-communicable diseases," Flores said.
For more information, write or call the NATIONAL NUTRITION COUNCIL, 2332 Chino Roces Ave. Extension, Taguig City. Tel. Nos. 843.0142; 843.1337; 843.5824; Fax No. 843.5818; Email: info@nnc.gov.ph or visithttp://www.nnc.gov.ph and www.facebook.com/nncofficial. Twitter @NNC_official.