That is a fitting title for this blog post because our first attempt to watch the rock/comedy musical "Rak of Aegis" last August was unsuccessful. We already bought three VIP tickets online last month, but the very heavy traffic in the Metro on August 15 prevented us from getting a cab to go to PETA Theater. It's a good thing that the show was extended until September and that we were able to secure 3 Orchestra tickets from Justin's drum teacher, Pepe Herrera, who portrays the character of Tolits in the musical. He was also one of the main reasons why we really wanted to watch "Rak of Aegis."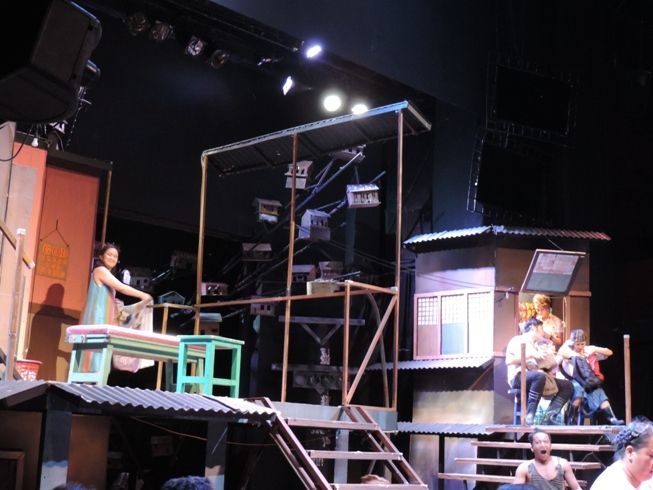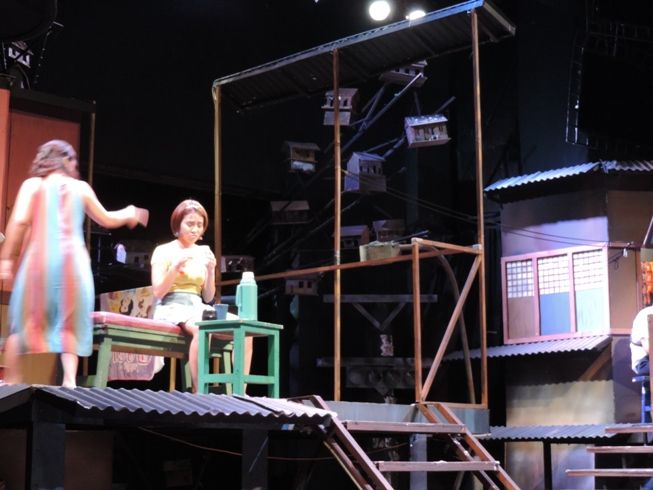 The title "Rak of Aegis" is a pun on the Tony-nominated rock musical "Rock of Ages." This Pinoy rock/comedy musical features the songs of Aegis, a Filipino novelty rock band which became popular in the 90s with their "Halik," "Luha," "Mary Jane," and "Basang-Basa sa Ulan," among others.
"Rak of Aegis" Synopsis
The musical is set in Barangay Venezia, a low-income neighborhood, often beset with floods. The community's perennial flooding problems have turned the lives of its residents upside down. People lose their jobs, while others get sick. Aileen (Aicelle Santos), the kind-hearted daughter of Kil (Robert Seña) and Mercy (Neomi Gonzales) hopes to get noticed by Ellen Degeneres by posting a music video of herself to YouTube. She believes that by doing that, she will be able to save her family from poverty. Aileen's dream finally came true with the help of his suitor Tolits (Pepe Herrera). The realization of her dream has saved the entire community from utter desolation.
"Rak of Aegis" showcases Pinoy's resilience at its best. It conveys the message that no matter what happens, Filipinos will overcome the greatest obstacles. "Rak of Aegis" is written by Liza Magtoto and directed by PETA's artistic director Maribel Legarda."
What We Like about "Rak of Aegis"
The set design is noteworthy with flood water, garbage, and boat to show the community's flooded surroundings. The plot is unique in that it was able to address various social issues. The cast were spectacular, especially Aicelle Santos with her remarkable vocal prowess and Pepe Herrera whose funny antics brought the house down. "Rak of Aegis" is truly entertaining! We (hubby, son and I) enjoyed watching the show.
Meet-and-Greet
There was a meet-and-greet after the 8pm show where the audience could have their pictures taken with the cast of "Rak of Aegis." We also saw celebrities like Lea Salonga, Sarah Geronimo and Gary Valenciano beelining outside the theater to congratulate the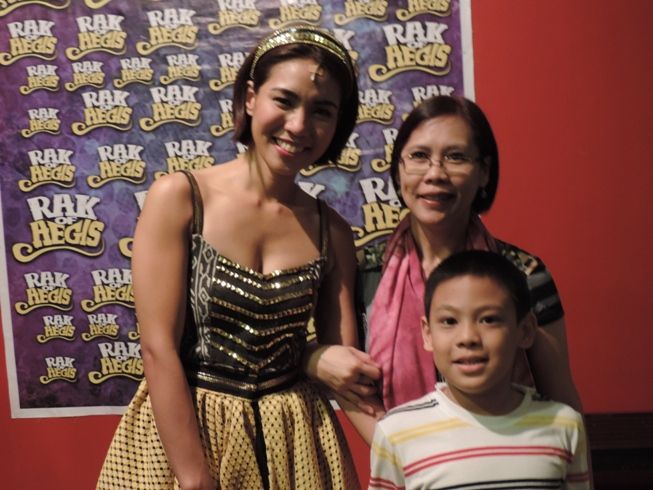 "Rak of Aegis" will have a re-run in December, so you still have time to watch it.