Last Wednesday, I received a beautifully wrapped package from PhilCare.
The package, a
PhilCare360 Wellness Box
, came with a lovely postcard that says: "Health is not about being alive' it is about being well. It is a state of achieving a complete harmony of mind and body."
I immediately opened the package to see the items inside. It contained products vital for having a healthy body. Included in this wellness box were a
Jump Rope
for physical fitness, an
Olive Oil Mist
and a
Seaweed Mask
for taking care of the skin, an
Oatmeal Soap
and a
Calamansi Soap
to restore the skin back to life, a
Moringa Detox Tea
for getting rid of the toxins in the body, and a
Love Your Heart
card that entitles me to a free ECG, lipid profile test and one (1) Internal Medicine consult.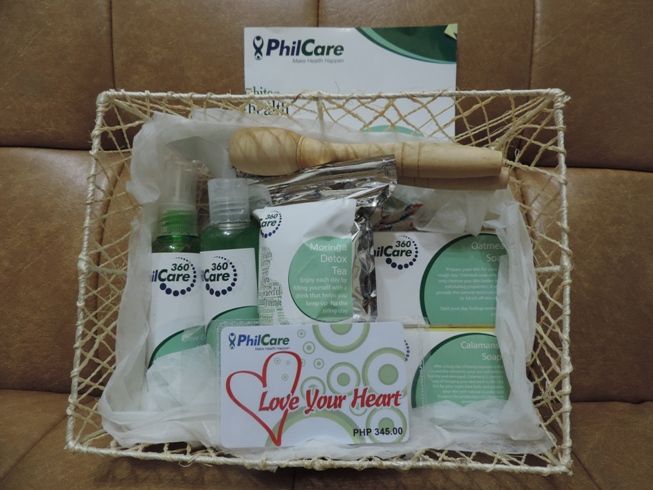 How did they know I needed all these stuff? To be honest, I have been neglecting myself in recent months as I juggle between work and household chores while attending to the needs of my 7-year-old son. Being without a helper for 6 months has really taken a toll on my health as I get little to no sleep to beat work deadlines and to finish all my blog backlogs. That resulted to ugly skin breakouts. Sometimes, too, my busy schedule prevents me from cooking healthy food at home, so I resort to ordering take-out food which is so unhealthy. And to make matters worse, I have also neglected exercising which resulted to gaining a few unwanted pounds. This PhilCare360 Wellness Box was exactly what I needed to put my life back on track.
What Is PhilCare360?
PhilCare360 is a program that not only provides excellent medical benefits to its members, but it also motivates people to take on an active lifestyle. PhilCare, the organization behind PhilCare360, is one of the first and among the largest HMO companies in the country. Aside from providing medical and hospitalization benefits, PhilCare360 also provides total wellness intervention through plug-and-play events, activities, and sessions that work together to jumpstart, motivate, support, and sustain a company's wellness initiative.
To thrive in today's modern market, PhilCare recently launched its Android app, the PhilCare Go!Mobile, which allows members to access PhilCare's services via their smart phones. It also transformed its website, philcare.com.ph, into a full online wellness magazine because PhilCare believes that a website should not be about the company; rather, it should be for the millions of Filipinos who demand more information about achieving a fit and active lifestyle.
Why Wellness?
More and more people are becoming health-conscious, and office workers are no exception. Employers must make sure that their employees are physically fit if they want to achieve better productivity in the workplace. Having healthy and motivated employees results in less absenteeism, greater focus, reduced overtime, and an overall culture of creativity and professionalism. These employees also need to provide their families with a trustworthy partner to take care of their wellbeing, especially their health.
Why PhilCare?
PhilCare is a world-class HMO that helps people reach total wellness, including a sound mind, an active and fit body, and a positive disposition. PhilCare has a complete line of health and wellness products that allows you to choose the type of coverage that's best for you and your budget. Once you sign up to be a PhilCare member, you automatically become part of comprehensive and well-rounded health care initiatives and wellness programs developed by PhilCare's carefully-selected roster of health partners.
You may visit their website, http://philcare.com.ph, to know more about PhilCare and PhilCare360.