I've been reading about McDonald's Kiddie Crew Workshop from other blogs, and I thought it would also be good for our almost-8-year-old son to participate in this kind of activity. When Mommy Levy of Levyousa announced a giveaway for a free McDonald's Kiddie Crew Kit, I joined right away, and I won!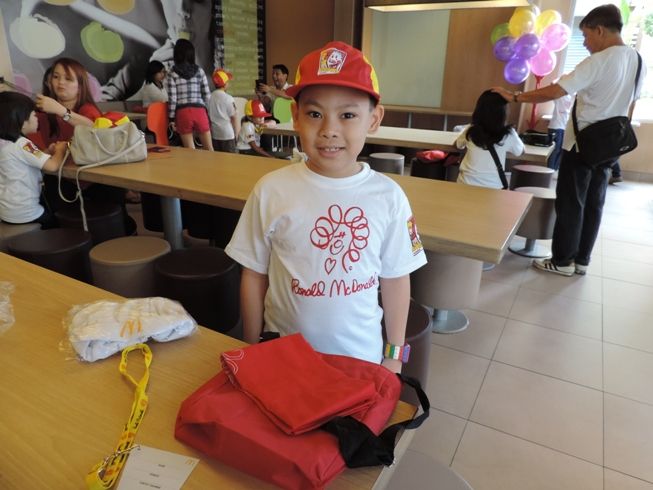 The
McDonald's Kiddie Crew Workshop
is a 5-day summer program for kids aged 6 to 12 years old. It's a fun workshop where kids will do arts and crafts, on-the-floor- training, dancing and singing. Workshop fee is Php595.00 inclusive of T-shirt, bag, cap, ID with lace, chef's hat, apron, workshop materials (washable paint in different colors), button pins, workshop certificate and meals.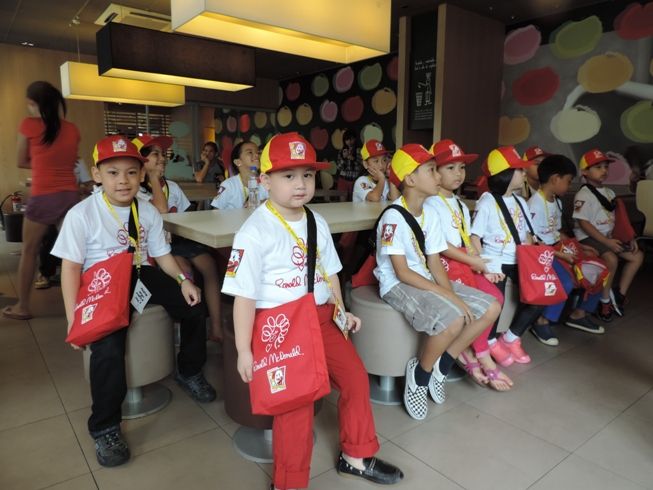 Justin began his workshop at McDonald's Greenhills last Monday, May 26. On his first day, he was first assigned to greet customers in the drive-thru area and to hand them their orders.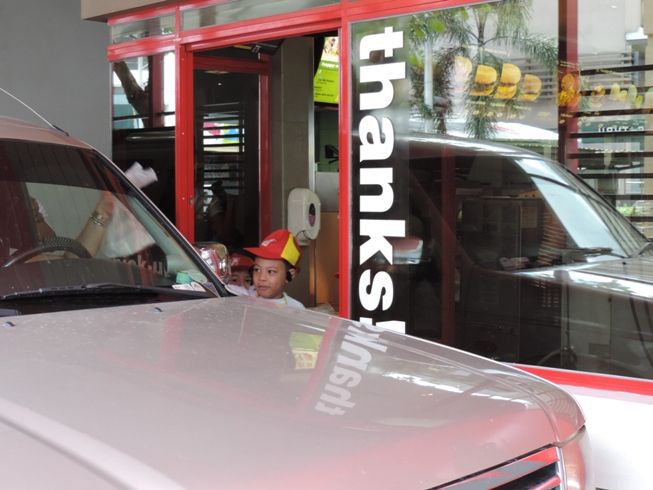 He was then tasked to clean the tables. He was so eager to perform this duty that he was asking customers if he could already take their trays and their trash. Initially, Justin wasn't really keen on joining the workshop, but after experiencing the on-floor training, Justin told me he was having fun.
On his 2nd day, his first station was at the front counter, filling plastic cups with drinks and helping prepare customers' orders.
He later joined the rest of the kiddie crewmembers in their art workshop. They were asked to design their chef's hat using washable paints.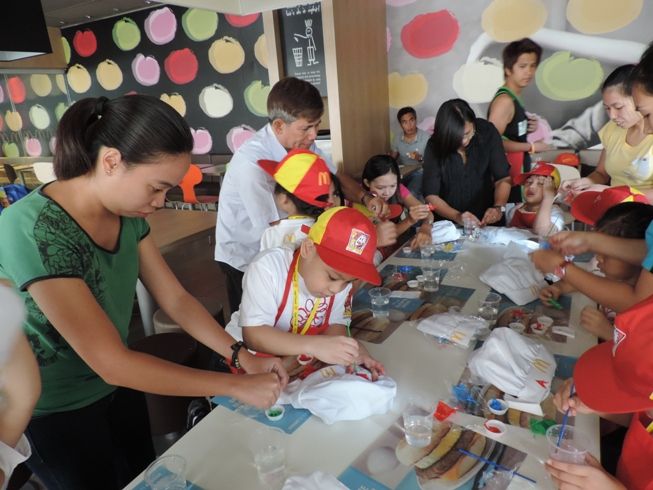 On his 3rd day, he stacked creamer and sugar at the front counter.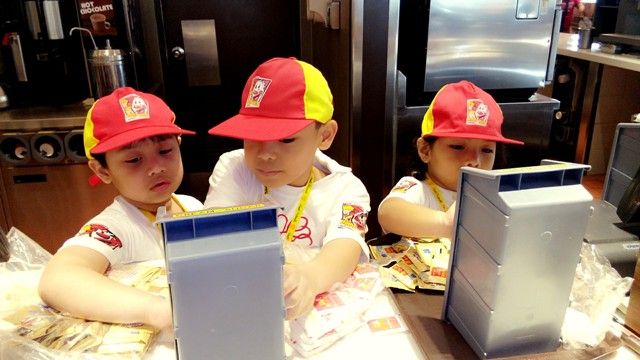 He also joined the rest of the group in making their own cheeseburger which they had for snacks that day.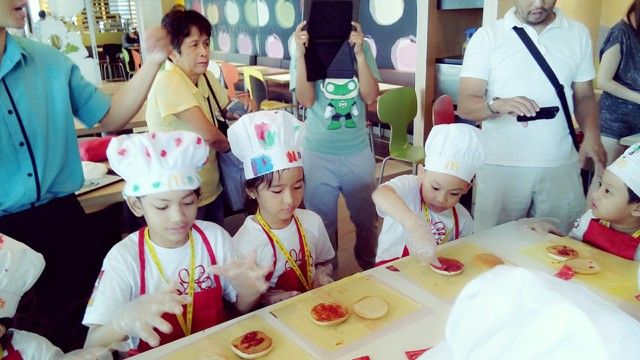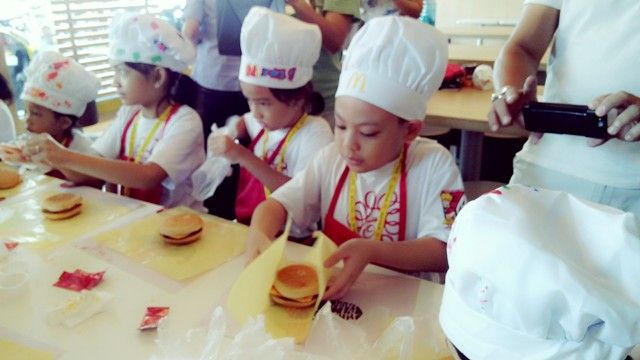 He was getting bored on the 4th day because he spent a lot of time in the drive-thru area. He said he wanted to do lobby duty (clean the tables), but he was placed in the front counter because he was needed there.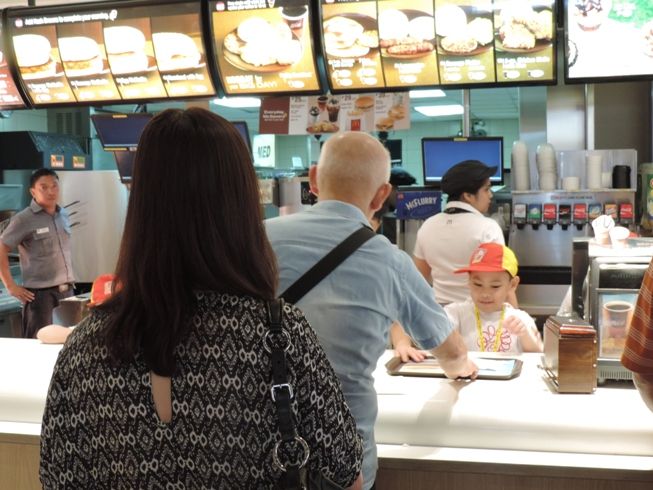 On their 5th day, the kiddie crewmembers weren't asked to work anymore because it's their Graduation Day. They had games, they danced, and they ate.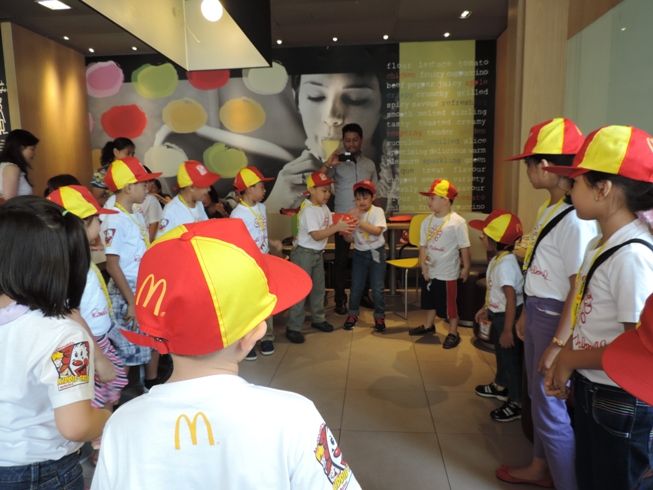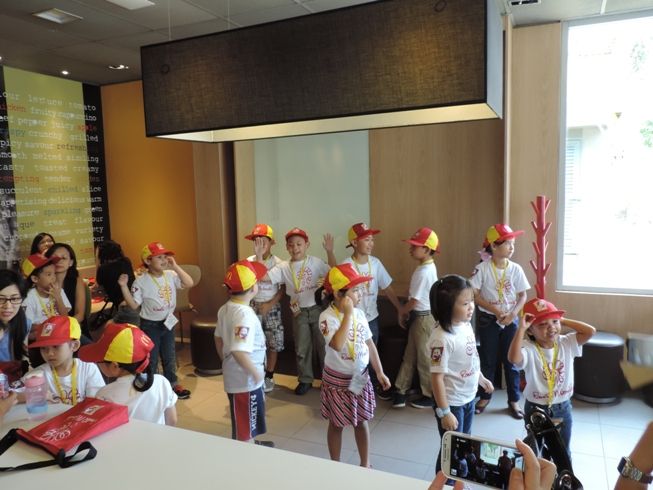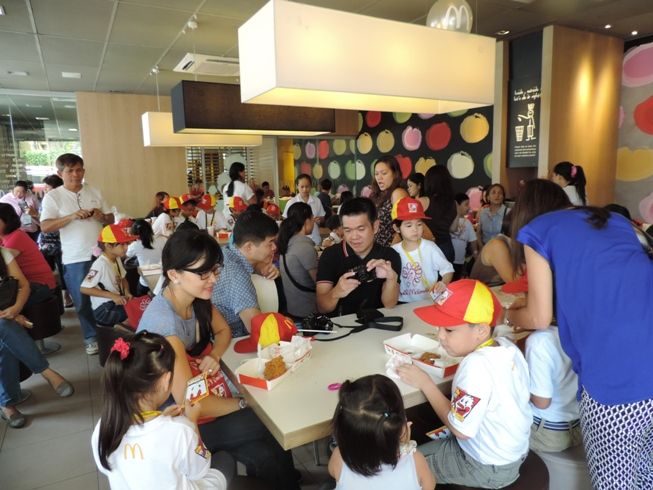 Before the program ended, they were given their certificate of completion with button pins bearing these titles: "Certified Kiddie Crew Dancer" and "Certified Burger Maker." The kids also had their photo opps with Hamburglar.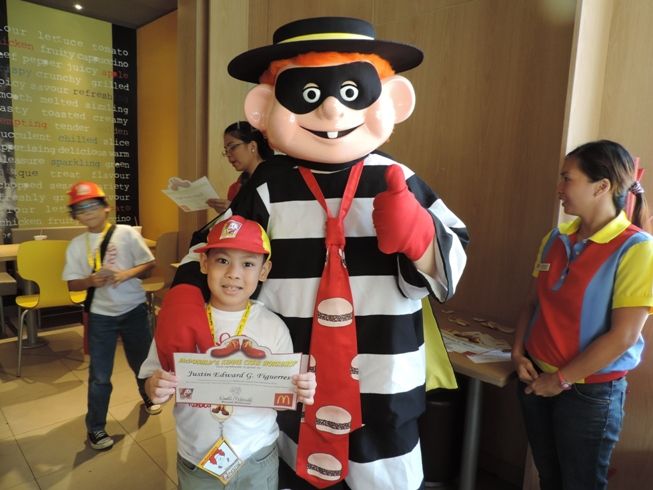 Justin enjoyed his 5-day McDonald's Kiddie Crew Workshop. His experience of rendering customer service in the counter, drive-thru and lobby areas, as well as painting his chef's hat and making his own cheeseburger with the other kiddie crewmembers has shown him the values of hard work, responsibility, teamwork, camaraderie, and self-discipline. I hope he remembers what he learned from this summer program and applies these to his home and school life.