After the IHOP event I attended at SM Mall of Asia last March 12 where they introduced their Filipino breakfast dishes, I took my husband and son to IHOP Restaurant at Bonifacio Global City to let them try these new food offerings. I totally forgot that this special menu of Filipino breakfast favorites would only be available starting on March 17, but we visited IHOP last March 15, two days earlier than the scheduled launch. But since we're already comfortably seated inside IHOP, we decided to stay and order what's on their current menu. We had Sirloin Steak Tips Dinner, Breakfast Sampler and Grilled Cheese Sandwich.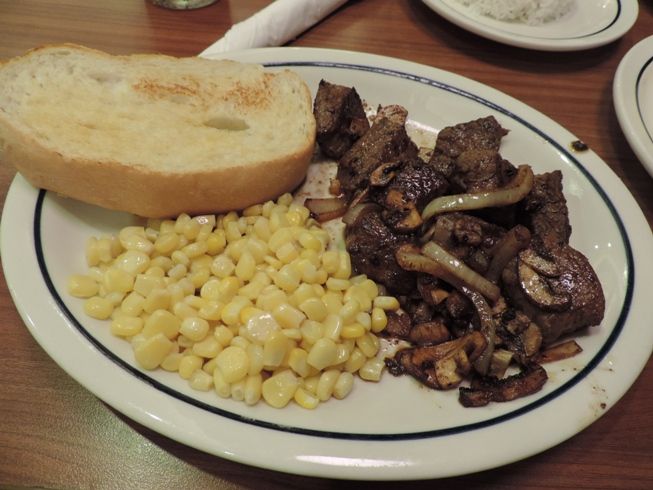 Sirloin Steak Tips Dinner, Php595.00
These are grilled USDA Select sirloin tips with onions and mushrooms. The menu says the
Sirloin Steak Tips Dinner
is served with mashed potatoes and buttered corn, but hubby's order had bread, instead of mashed potatoes. We found this a bit expensive, too, but the tenderness of the meat and its flavor plus the huge serving size convinced us that the price was worth it.
Breakfast Sampler, Php395.00
Who would believe that this huge plate is for me? But yes, that's true! I ordered this
Breakfast Sampler
simply because I couldn't decide what to eat, so hubby suggested this huge platter of TWOs – two eggs, two crispy bacon strips, two pork sausage links, two pieces of ham, two fluffy buttermilk pancakes and golden hash browns. Nope, I didn't eat everything; I couldn't. To leesen the amount of calories I'd be consuming, I gave one of everything on my plate to hubby. Wise move, eh?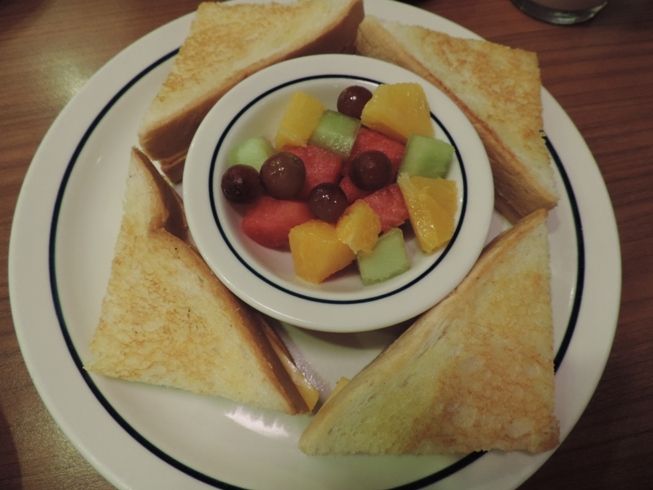 Grilled Cheese Sandwich, Php175.00
Justin had
Grilled Cheese Sandwich
, four triangles of white bread with melted American cheese, served with a bowl of seasonal mixed fruits. He said they're yummy, but he wasn't able to finish everything because he was preoccupied with iPad games. He's also not fond of fruits, so he gave that to Mommy. Lucky me!
Splashberry, Php175.00 and Chocolate Milk Shake, Php195.00
Our son had Chocolate Milk Shake, while hubby and I both had a glass of Splashberry, a mix of juicy strawberries, lemon-lime soda and premium orange juice. The Splashberry was refillable, by the way. What's interesting was that each time we asked for a refill, they gave us a new glass of this refreshing drink, instead of just refilling our glass. Cool, right?
With everything we ate, you bet our tummies were full when we left IHOP.
IHOP Restaurant
W Global Center
30th St. corner 9th Ave.
Bonifacio Global City
Taguig City