I really don't like it when my skin turns oily, but it happens more often these days because of a lot of factors, including stress, changes in weather condition and aging. You would think that oily skin shouldn't bother a work-at-home mom like me, but you're wrong. Even if I don't leave the house often and don't get to interact with a lot of people on a daily basis, it still feels good to have beautiful skin, one that is grease-free and acne-free. My journey to achieving beautiful skin led me to discover Celeteque DermoScience Acne Solutions Oil Control Toner.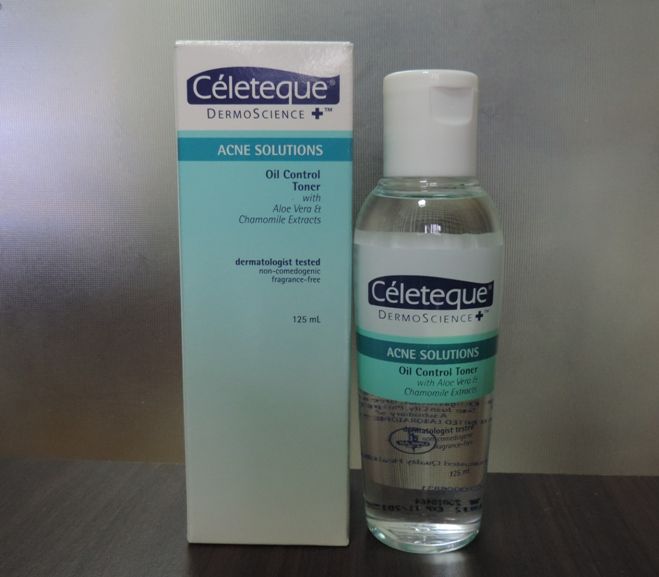 Celeteque DermoScience Acne Solutions Oil Control Toner (125ml), Php117.00
Ingredients:
Water, Ethyl Alcohol, Glycerin, Panthenol, Aloe barbadensis (Aloe Vera) Extract, Allantoin, Chamomilla recutita (Chamomile) Extract, Sodium PCA, Hamamelis virginiana (Witch Hazel) Extract, Citric Acid, Sodium Citrate
Directions for Use:
Moisten cotton with Celeteque DermoScience Acne Solutions Oil Control Toner, then apply to face and neck area using gentle upward strokes.
What I Like about It:
• It removes make-up, deep-seated dirt and excess oil that may cause pimples.
• It contains Aloe Vera and Chamomile extracts that soothe the skin and help prepare it for moisturizing.
• It's dermatologist-tested, non-comedogenic and fragrance-free.
• It's suitable for normal to oily skin.
My Experience with This Product:
After weeks of using Celeteque DermoScience Acne Solutions Oil Control Toner, I can honestly say that my oily skin has improved. Without this product, it would only take a few hours before my skin gets very oily, and I would have to use more than three control sheets to remove the grease from my face. However, when I apply Celeteque DermoScience Acne Solutions Oil Control Toner to my face every morning before I work, my skin is still presentable after six hours, and it only takes 3 oil control sheets to wipe off the excess oil from my face. I'm so loving this product! Take note that I don't apply face powder when I'm at home.
And now for our Valentine giveaway! Pensive Thoughts, in partnership with Unilab, will be giving away 2,500 worth of Unilab products to 1 lucky winner.
Giveaway Mechanics:
Only Philippine residents can join this giveaway which starts today and ends on February 27, 2014, 12:00am, Eastern Time. All entries will be verified via email after the giveaway has ended. If the winner has not contacted us within 48 hours, a new winner will be drawn. Unilab will take care of delivering the prizes to the winner. Good luck!
a Rafflecopter giveaway