Mixels, a groundbreaking global franchise created by Cartoon Network and The LEGO Group, will make its global debut on multiple screens and platforms this February. Mixels.com arrives on the web first on February 15, followed by animated shorts on Cartoon Network Philippines starting February 17 during Funday Mondays at 5:25 p.m. Soon after, kids will be able to "mix, max and murp" with their own LEGO ® Mixels collectible building sets and download the Calling All Mixels app.
Mixels
shows a world of colorful creatures who can mix and combine with each other, leading to hilarious and surprising results. They are comical, mischievous creatures that live in tribes of three. Each tribe is based around a unique element. The Infernites are fiery and short tempered but handy for a barbeque. The Cragsters are the industrious mining tribe, and the Electroids are a quirky bunch with enough nervous energy to light up the whole world. Nixels, annoying and destructive little creatures, wreak havoc over the Mixel land, trying to tear down and break the tribes apart.
At Mixels.com, fans can watch all of the shorts and learn more about the characters and setting of the Mixels world. Kids will be able to interact with the brand by exploring the environment of each tribe and meeting the Mixels, mixing multiple Mixels to discover lots of fun combinations and playing mini-games featuring characters from different tribes. Each tribe's world will be filled with rich, colorful graphic elements that portray that environment's unique qualities. Using cubits, kids can mix together Mixels from the same tribe to form a Gigantic Max or mix together elements from different tribes. By making successful mixes, kids will unlock exclusive mini-games. As new waves of Mixels are introduced, new tribes and mini-games will be added to the site to reflect the ever-growing universe. Mixels.com was developed by Cartoon Network Digital, the Emmy-nominated studio behind the Watch Cartoon Network App and Cartoonnetwork.com.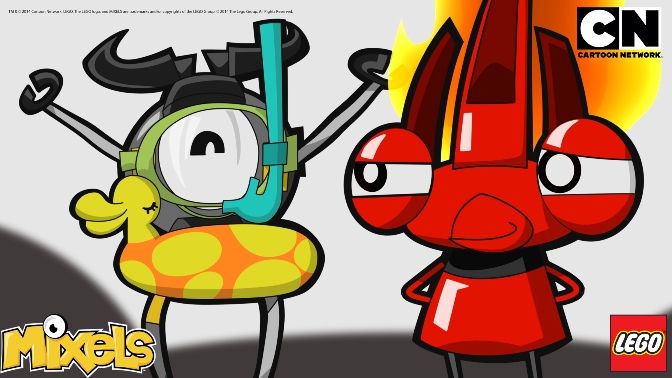 Seismo and Flain
The
animated shorts
, consisting of 1-2 minute segments, feature any number of characters on a series of adventures where they will be able to "mix" (two characters combine), "max" (all three members of the tribe combine), or "murp" (when the combo just doesn't quite fit). The Mixels shorts debuted on Cartoon Network today, February 17, and will air weekly. Created for Cartoon Network by John Fang (Generation Rex, Ben 10) and Dave Smith (Powerpuff Girls), Mixels is executive-produced by Jennifer Pelphrey, Tramm Wigzell, Brian Miller and Rob Sorcher and is produced at Cartoon Network Studios.
Calling All Mixels, the digital application launching in the first quarter, is an addictive mixture of exploration, combat and strategy, with a creative spin on mixing. Find lost Mixels, discover new lands and create amazing mixes in a world of lush 3D graphics, all while building elaborate structures to secure your Cubit supplies. Players take the role of Flain, a member of the Infernites as he sets forth on an adventure to find and reunite the lost Mixel tribes! It will not be an easy task as annoying Nixels roam the lands and cause trouble for everyone in sight. Flain and the rest of the Mixels will have to use all of their wits to find new friends, gain new bases, gather ingredients, get stronger and deal with constant Nixel problem if they plan to ultimately reunite all the Mixel tribes! Calling All Mixels was developed by Hibernum Creations and published by the Emmy and Webby-nominated Cartoon Network Games.
LEGO Mixels is a new series of buildable toys that create fun collectible characters that leverages the versatility and creativity of the LEGO building system to recreate the "mix," "max" and "murp" fun of Mixels in physical form. LEGO Mixels are batched and released throughout the year in tribes such as Frosticons, Infernites, Stretchers, Cragsters, Electroids and Fang Gang. Kids will be able to mix and combine the LEGO Mixels, using the mysterious Cubits, to build new characters with hilarious results, to further immerse themselves in the sprawling Mixels world.
Cartoon Network is the leading kids' channel in the Philippines. Its dedicated Philippine feed offers the best in animated entertainment, drawing from the world's largest cartoon library of Warner Bros., MGM and Hanna-Barbara titles. Cartoon Network also showcases popular original series such as Ben 10, The Amazing World of Gumball and Adventure Time. Cartoon Network is available in 23 territories throughout the Asia Pacific region and is currently seen in over 65 million cable homes. Online, Cartoon Network Asia Pacific reaches nearly five million unique visitors a month.
Turner Broadcasting System, Inc., a Time Warner company, creates and programs branded news, entertainment, animation and young adult media environments on television and other platforms for consumers around the world.