I have always been very vocal about my penchant for practical gifts. I really enjoy giving and accepting presents that have practical uses. Last Christmas, a dear friend and officemate of my husband gave us a gift that made me smile, a small bag of Human Nature products. Included in that package was a dishwashing liquid from Human Nature called "Tough Love Natural Dishwashing Liquid."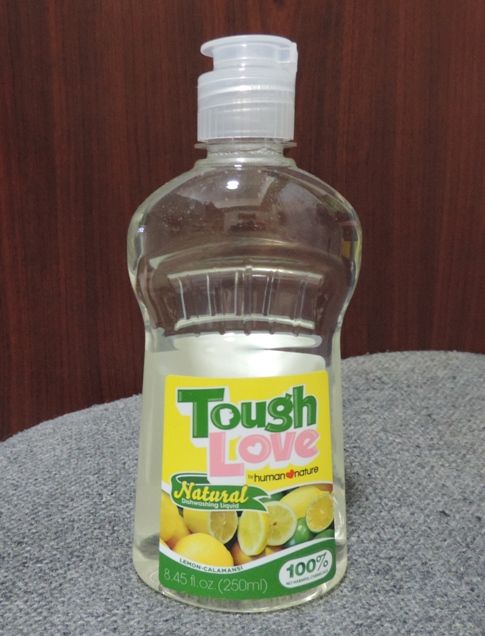 Tough Love Natural Dishwashing Liquid from Human Nature
Product Information
• Tough Love is 100% free from harmful chemicals. It has no phosphates, dyes, petroleum and chlorine.
• It's biodegradable and non-toxic.
• It's 99.99% natural containing coconut-derived ingredients.
What I Like about It
• Its lemon-calamansi scent leaves the dishes smelling fresh and clean.
• It doesn't dry the hands even after multiple washing.
• It doesn't pose a threat to the environment because it's biodegradable.
• It's safe to use because it doesn't have chemical residues.
What You Might Not Like
• According to the product label, it may appear a bit cloudy at temperatures below 30°C which they say doesn't affect the quality and effectiveness of the product. This is something I haven't experienced yet, but in case I do, I don't think it's going to be a problem.
• You may need a few more squirts of Tough Love to clean overly greasy dishes, but aren't all dishwashing liquids like that?
I have no idea how much Tough Love Natural Dishwashing Liquid Costs, but I would love to buy another 250 ml bottle of this because it's gentle on my hands, it's safe and effective to use and it's environment-friendly, too.