I was first introduced to Vigor-ACE Soft-Gel Capsule in 2000. It was hubby's endocrinologist who prescribed it to him, along with medications for his thyroid problem. She became my endocrinologist, too, when my own doctor left for the U.S. to accompany her daughter who was going to study there; she also prescribed Vigor-ACE Soft-Gel Capsule to me. Being younger then, I never thought I needed multivitamins, but as I grew older and frequent muscle aches and body pains started happening , I realized I needed all the help I could get in maintaining my general well-being, and that's how I got to try this multivitamin brand.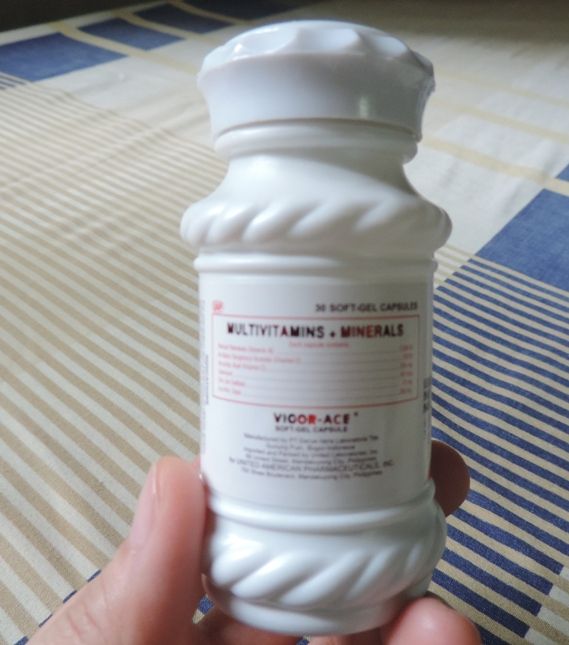 Vigor-ACE Soft-Gel Capsule, less than Php500.00 (30 capsules)
Product Information
Each Vigor-ACE Soft-Gel Capsule contains:
• 7,500 IU of Retinol Palmitate (Vitamin A)
• 100 IU of dL-Alpha Tocopheryl Acetate (Vitamin E)
• 250 mg of Ascorbic Acid (Vitamin C)
• 50 mcg of Selenium (from Selenium Yeast)
• 20 mg of Zinc (as Sulfate)
• 200 mg of Lecithin, Soya
What Vigor-ACE Soft-Gel Capsule Can Do
• Vigor-ACE has antioxidants (Vitamin C, Vitamin E and Selenium) which help protect our cell membranes against damage caused by free radicals.
• Vigor-ACE also has Vitamins A and Zinc which are important in cellular maintenance and repair.
• Lecithin in Vigor-ACE supports normal functioning of the cells.
• The combination of these ingredients helps restore and maintain one's strength, vitality and general well-being.
My Vigor-ACE Soft-Gel Capsule Experience
I bought a small bottle of Vigor-ACE (30 capsules) a few weeks ago for my December consumption. I have finished half of the bottle already, and what I noticed is that I am not sluggish as I used to be, especially on days when I lack sleep. Being more mentally and physically alert has helped me accomplish more at work and at home.
What I Like about It
• It's a nutritional supplement that helps prevent and treat vitamin and/or mineral deficiency.
• It helps support active function in adults.
• It doesn't increase appetite, hence, no weight gain.
And now it's time for a Christmas giveaway! Pensive Thoughts, in partnership with Unilab, will be giving away 2,500 worth of Unilab products to 1 lucky winner.
Giveaway Mechanics:
Only Philippine residents can join this giveaway which starts today and ends on January 10, 2014, 12:00am, Eastern Time. All entries will be verified after the giveaway has ended. If the winner has not contacted us within 48 hours, a new winner will be drawn. Unilab will take care of delivering the prizes to the winner. Good luck!
a Rafflecopter giveaway