I admit, I love receiving bath products as gifts. They're practical presents because I actually use them; bathing every day is an integral part of my daily routine. In a blog event I attended two months ago, I received a small pouch containing two interesting items: a bath cream and a feminine care product. I'm going to review both, but this blog post will only talk about Goat's Milk & Avocado Bath Cream by The Cream Factory.
Product Description:
The packaging says it has real goat's milk from the Netherlands. Goat milk is packed with proteins, vitamins, minerals, nutrients and calcium that nourish and protect the skin. It moisturizes, exfoliates and promotes collagen growth, too, plus, it reduces fine lines and wrinkles. The other main ingredient of this bath product is avocado, a fruit known for its beauty and health benefits. Avocado is loaded with Vitamin A that helps remove dead skin cells. It's also an effective skin cleanser and moisturizer. This product also contains 100% active botanical extracts that leave the skin soft and smooth.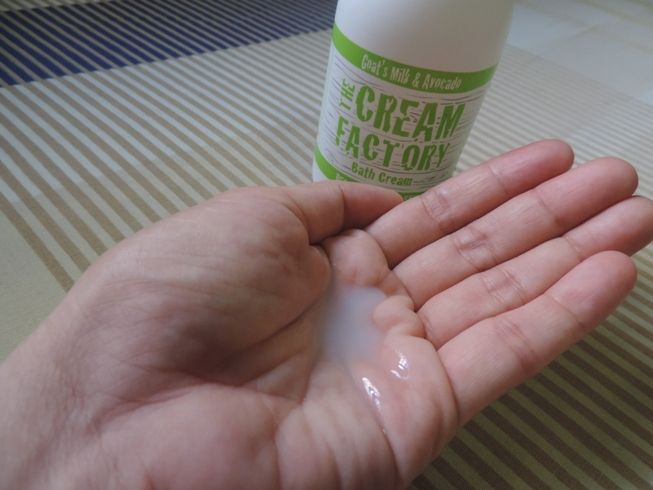 What I Like about It:
• It smells so good, no wonder they call it "Dessert for the Skin."
• It's thick and creamy.
• A tiny dollop of this bath cream is enough to produce a luxurious lather.
• My skin feels moisturized after bathing, so I no longer need to apply moisturizing creams or lotions after a shower.
• My skin feels smooth all day.
The Downside:
• Its delicious scent doesn't linger on the skin, but that's a minor setback considering all the benefits it offers (smooth, hydrated and glowing skin).
Aside from Goat's Milk & Avocado, the Cream Factory Bath Cream is also available in Goat's Milk & Acai Berry, Goat's Milk & Almond, Goat's Milk & Cinnamon, Goat's Milk & Honey, Goat's Milk & Jojoba, Goat's Milk & Seaweed, Goat's Milk & Witch Hazel, and Goat's Milk & Yogurt. Next time, I'd like to try Goat's Milk & Cinnamon.