"Only an act of true love can thaw a frozen heart." This is my favorite quote from the movie Frozen. It's a short, fast-paced, entertaining movie about love, sisterhood and family.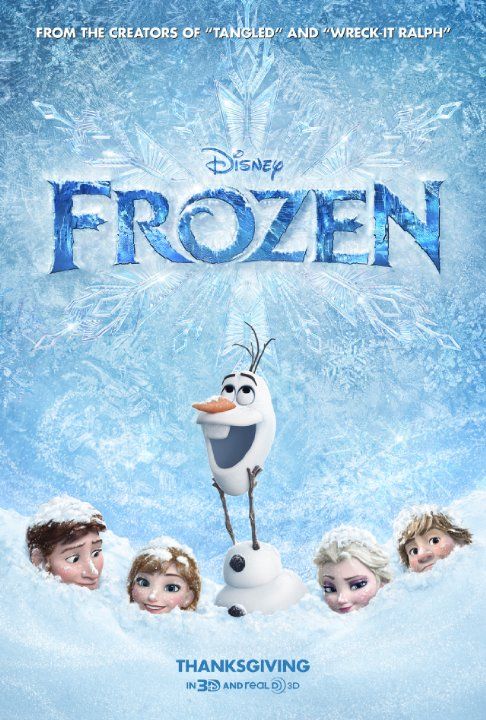 Photo credit: IMDB
Synopsis
Frozen is loosely based on Han's Christian Andersen's classic fairy tale The Snow Queen. It is a story of two sisters, Princess Elsa (voice of Idina Menzel) and Princess Anna (voice of Kristen Bell), who are exact opposites of each other. Elsa is reserved, while Anna is fun-loving and spirited.
Elsa harbors a deep secret. She has the power to create snow and ice. It is also because of this gift that she almost killed Anna in a freak accident when they were young. To protect the girls and to keep Elsa's ice-bending powers a secret, the King and Queen of Arendelle, keeps the sisters apart and orders the palace doors to be closed to all outsiders.
Ten years later, the King and Queen are lost at sea, and when Elsa turns 21, the gates of the palace are unlocked so that everyone can witness her coronation as queen of Arendelle. During the coronation ball, an argument ensues between the sisters, causing Elsa to unleash her icy powers and trapping the kingdom in eternal winter.
Elsa then flees to the forest and locks herself in her own ice castle. Anna follows her sister, determined to make things right, and this is where her epic journey begins.
What I Think of Frozen
In my opinion, Frozen is one of the nicest Walt Disney animated films I've ever watched. It's funny, entertaining, good-natured, wholesome and inspirational. It has an exciting storyline, gorgeous visuals, wonderful characters and amazing soundtrack.
After watching the movie, our 7-year-old son looked for Demi Lovato's music video of "Let It Go" in YouTube, and he played it nonstop. He watches this YouTube video every day, too.
Overall, Frozen is a movie worth watching. We all loved it, and we highly recommend it for the whole family!