Under the guidance of the World Alliance for Breastfeeding Action (WABA), World Breastfeeding Week (WBW) is celebrated every year from August 1 to 7 to raise sustained awareness on the importance of breastfeeding and the need to support, protect and promote it worldwide. The theme for WBW 2013 is "Breastfeeding Support: Close to the Mother."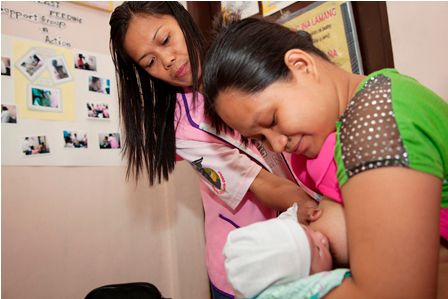 This year, the United Nations in the Philippines, represented by the International Labour Organization (ILO), the United Nations Children's Fund (UNICEF), and the World Health Organization (WHO) joins the rest of the world in commemorating WBW and World Breastfeeding Month in August.
Breastfeeding provides complete nourishment to a newborn child from birth to six months. Breast milk also enhances optimal brain development, promotes maternal and infant bonding, and has immune properties that protect babies and young children from diseases.
This 2013, WBW seeks to:
• Draw attention to the importance of peer support in helping mothers to establish and sustain breastfeeding.
• Inform the public on the highly effective efforts to expand peer counseling programmes.
• Encourage breastfeeding supporters, regardless of their educational background, to be trained to support mothers and babies.
• Identify local community support contacts for breastfeeding mothers, for support even after giving birth.
• Call on Governments and maternity facilities globally to actively implement the Ten Steps to improve duration and rates of exclusive breastfeeding.
Government has enacted the National Milk Code (Executive Order No. 51—National Code of Marketing of Breastmilk Substitutes, Breastmilk Supplements and Other Related Products) and its Revised Implementation Rules and Regulations in 1986, and the Expanded Breastfeeding Promotion Act (Republic Act No. 10028) in 2010, which address the objectives of WBW 2013 in the Philippines.
In the Philippines, however, more women are getting employed which poses a greater challenge for them to effectively balance their work and family life. Working women find it hard to continue exclusive breastfeeding for fear of losing their only source of income.
According to the Food and Nutrition Research Institute (FNRI) under the Department of Science and Technology (DOST), the nutrition status of children under age of five years has not improved in the last 10 years in the Philippines. The ILO, UNICEF and WHO are, therefore, calling on the public and private sectors, including CSOs, to ensure that the National Milk Code and related laws are implemented and monitored across the country.