Six days ago, we went to McDonald's Greenhills to pay the deposit for my son's upcoming 7th birthday party. When I was busy talking to the manager, my son was preoccupied with the new Happy Meal toys on display: Hello Kitty toys for girls and Voov toys for boys. I already knew what he'd tell me next, and I was right. He asked if he could have a Voov truck. It was almost snack time already, so I didn't really mind buying two Happy Meals (4-pc Chicken McNuggets with orange juice and McSpaghetti with orange juice) so he could get not one, but two, Voov trucks. These toys, after all, come for free, so it's really not a hassle acquiring them. They're actually a welcome addition to my son's growing number of toys.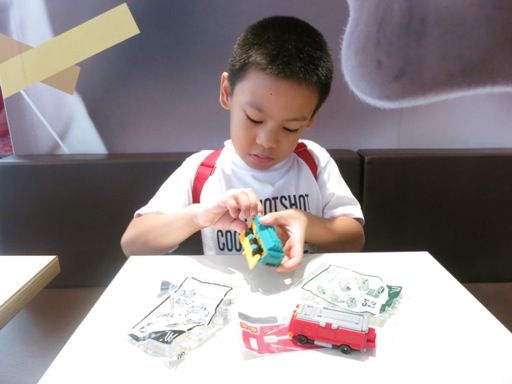 Little busy bee!
These Voov trucks are transforming trucks. With a few simple steps, you can convert the Voov Fire Engine into a Voov Truck and the Voov Cargo Truck into a Wheel Loader. That's cool! No wonder, the little boy liked them. It's like having four different trucks for just two Happy Meals.
Proudly showing his Voov Fire Engine/Voov Truck and his Voov Cargo Truck/Wheel Loader
As you can see, the little boy was all smiles in this picture. Those Happy Meal toys made him very happy and the Chicken McNuggets, too!
Do your kids like Happy Meal toys, too? What Happy Meal toys have your kids recently acquired?