As a homemaker, my family's needs are my utmost concerns. I make it a point to prepare healthy and delicious meals for my husband and our 6-year-old son. Last year, I decided to do less frying at home, which prompted me to buy a no-oil fryer and a steamer. These two kitchen applianceswere the two most commonly used items in our house until I realized that the steamer I bought was too small for us. It can only accommodate so much that we sometimes ended up doing our steaming in batch because what I bought, which was the only one available in the grocery on that day, was only a 1-tier steamer. It cost us more money, time and effort. I guess it's time to buy a new one, and I think I just found the right one for us.

This is the
Camel 3-Tier Electric Steamer
(Camel Steamer CS-9301). The price of this electric steamer (Php1,300) is quite affordable given its awesome features:
• 800W Food steamer
• Size (cm): 16 x 10 x 24
• 3-tiered stackable transparent baskets with 9-liter capacity
• 60-minute timer control
• Double water inlet for easy refill
• Transparent lid with cool-touch handle
• Power and water level indicators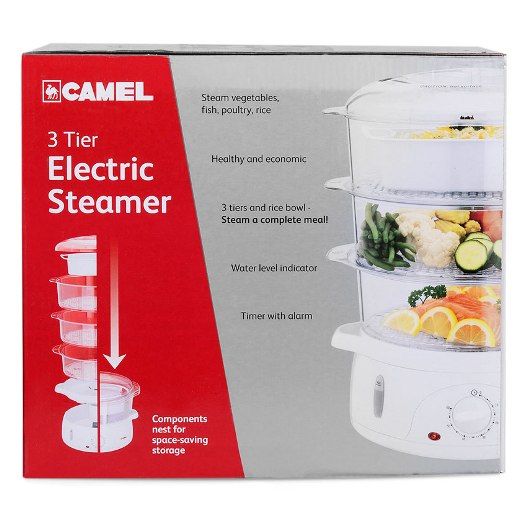 Because it's 3-tiered, this
Camel Electric Steamer
is ideal for busy work-at-home moms like me because I can cook up to 9 liters of food all at once. All I need to do is prepare the ingredients, place them inside the three stackable transparent containers, fill the inlet with water, and let the Camel Electric Steamer do its job. I don't really need to stay in front of the Camel Electric Steamer the entire time because it has a built-in timer that automatically goes off when the food is cooked. This means less time to prepare an entire meal and more time to do other stuff. I am also assured that what my family will be consuming is healthier because it's steamed, and it's delicious because the flavor and nutrients of our food remain intact, and because the lid is cool to the touch, I can easily get the food inside the steamer without the fear of getting burned. What could be better than that? I am definitely going to buy this Camel 3-Tier Electric Steamer at
Lazada
.