Lazada, Southeast Asia's biggest online shopping mall, is now available on mobile devices. Users can now browse through Lazada Philippines' 20,000+ products and order online through their free mobile app for Android. Set to revolutionize every Filipino's shopping experience, everyone can now shop whenever and wherever with this app.
The Lazada Android app has an advanced internal search engine that allows users to explore products by categories, brands, price and more. By using the app, customers can also discover the latest promos, use discount vouchers, and get exclusive updates on special arrivals. The Lazada app also features full screen views of product images, product reviews, and ratings. Customers can enjoy flexible payment terms through Cash on Delivery and credit cards or debit cards.
By 2016, there will be an estimated 1.29 billion smartphones in Southeast Asia. This has made Lazada optimistic about the future of mobile e-commerce. With the growing accessibility of the Internet and the increasing popularity of online shopping, the company believes that the introduction of an Android app among its market will further boost its business. In Southeast Asia, the Philippines is the second most mobile-payment-ready nation followed by Malaysia, Thailand, Vietnam, and Indonesia.
With over 3.5 million subscribers and 1.1m fans in the Philippines, Lazada is already the most talked about retail and consumer merchandise page on Facebook.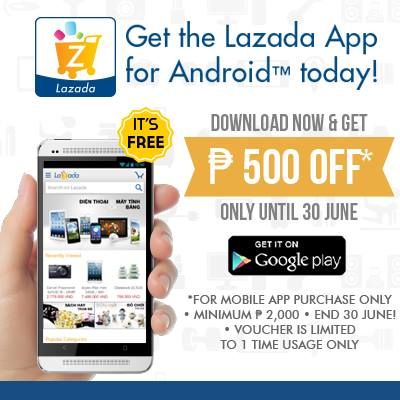 Now, are you ready for more good news? If you are, then
download Lazada's mobile app
now and get Php500 off your total purchase for a minimum spend of Php2000 when you order through this app. Lazada will also be raffling off 5 tablets to the first 100 downloads. For more details, visit
http://www.lazada.com.ph/mobile-apps/
.