My son is now officially a grade-schooler. Last Monday, June 17, was his first day in school as a Grade 2 student. He skipped Grade 1 in accordance with his school's K+12 program. It's his first time to wear a white polo shirt with his name, grade level and school emblem paired with khaki pants and low-cut black leather shoes. Last year, his school uniform consisted of a white school shirt, khaki pants and white rubber shoes.
Posing for Mommy while waiting for the school service
Of course, I had to take a picture of him on his first day of class. This photo was taken outside the place where we live while waiting for his school service.
Parents are allowed to drop their kids off to their classroom on the first day of school, so I grabbed that opportunity to see his new teacher, his new classmates and his new learning environment. His school service came early, but because of heavy traffic, our travel time took longer than usual. We were inside his classroom a few minutes before the school bell rang. I hurriedly took a picture of my son inside his new classroom; I was also able to ask his homeroom adviser a few questions.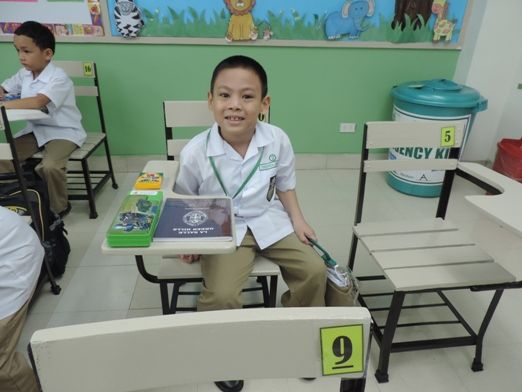 My handsome grade-schooler!
There are 39 students in his class, which, I think, is a lot, considering that other sections have only 20+ students. He belongs to Section A, the honors class. As a Grade 2 student, he will now be spending 7 hours in school every day from Mondays to Fridays poring over 9 books and studying for 10 subjects. Good luck, son!
My hope is that my son will enjoy school as much as he did last year when he was just a complete newbie in big school. And like before, I will be here to guide him and help him every step of the way.