Last Thursday, my mom blogger friends and I attended a fun and exciting event at Chili's Grill & Bar in Greenhills, San Juan.
Photo credit: BlueWater Day Spa
BlueWater Day Spa
launched their search for their first-ever baby massage image models through their campaign called "
Relax in Style and Make Your Baby a Star
."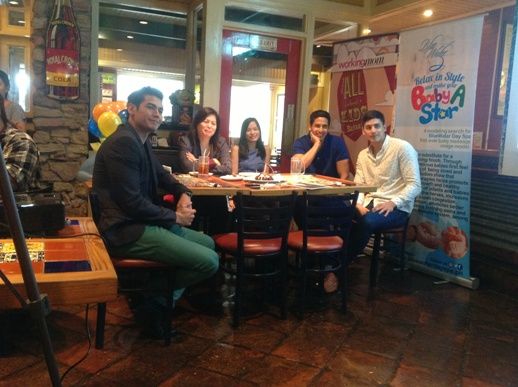 The event was hosted by
Rikka Dylim
and was graced by good-looking gentlemen
Fabio Ide
and the
Semerad twins Anthony and David
.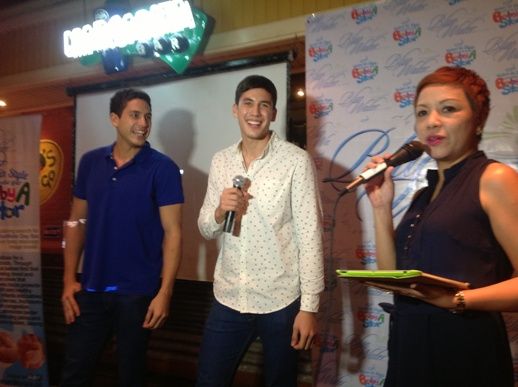 Fabio, Anthony and David joined the mommy bloggers in the parlor games and gamely posed on cam with the mommies for the much-awaited photo opps.
Photo credit: BlueWater Day Spa
BlueWater Day Spa's Baby Massage Treatment
If it's relaxation and wellness you're seeking, there's no better place to be than BlueWater Day Spa. Their innovative and effective roster of wellness treatments cater to both men and women and now even babies. Yes, you heard that right! BlueWater Day Spa's clients now include babies. With the launch of their signature Baby Massage Treatment, BlueWater Day Spa can now address the wellness needs even of infants and toddlers who, like adults, are also prone to stress caused by the environment and other outside factors.
There's no denying the fact that a parent's touch is important to make babies feel loved and secure. Touching your child during the massage process strengthens the emotional bond between you and your child, plus it gives many health benefits to your precious little one. BlueWater Day Spa knows this all too well, and with their Soothing Baby Massage, you'll have happier, healthier and more confident babies!
BlueWater Day Spa's Model Search for Babies
To further promote the benefits of the Baby Massage Treatment and to thank parents who have availed of the treatment for their babies, BlueWater Day Spa is introducing their latest promotion, their first-ever search for BlueWater Baby Image Models.
This is a modeling search for cute babies who will become BlueWater Day Spa's image models for its signature Baby Massage. This contest will run from
June 6 to August 8, 2013
and is open to all babies and toddlers aged
6 months to 2 years old
(two winners: boy and girl) and
2 years old to 4 years old
(two winners: boy & girl).
Prizes for the Winners
The four winners of this modeling search will get the following prizes:
• One (1) Birthday Kiddie Spa Party Package for 28 persons at BlueWater Day Spa-Ortigas Spa Theatre worth P20,000.00 (Terms and Conditions apply)
• Free 10 Baby Massage Treatments valid for one year worth P3500.00
• To be featured in a BlueWater Day Spa Ad Campaign for Baby Massage (online, print, in-store ad collaterals) with photo shoot.
To learn more about BlueWater Day Spa's latest promotion, visit their website www.bluewaterdayspa.ph and Facebook page BlueWater Day Spa.