I really wanted to attend this event because I've been using Novuhair 2-in-Pack for more than a month now, and it's showing good results. The scar line on my head which was the result of an open-head surgery I had in 2004 and which had not grown hair for 9 years started growing hair. See my review of Novuhair 2-in-1 Pack. In that review, I expressed my hope for Nutramedica Inc. to come up with a Novuhair conditioner to complement their herbal shampoo and topical scalp lotion. Hurray, because I finally got my wish! They have finally launched their Novuhair 3-in-1 Pack!
Novuhair 3-in-1 Pack (Herbal Shampoo 200ml, Topical Scalp Lotion 200 ml and Herbal Conditioner 200 ml), SRP Php4,980 per pack
The product launch was held at Citybest Seafood Garden Restaurant in Tomas Morato Avenue, Quezon City last Wednesday, May 22, 2013. Present at the press conference were Dr. Rica Silva-Mallari, Dr. Eleuterio "Bunny" Bernardo, Ms. Mae Velilla, Ms. Gwendoline Ruais and Mr. Fanny Serrano.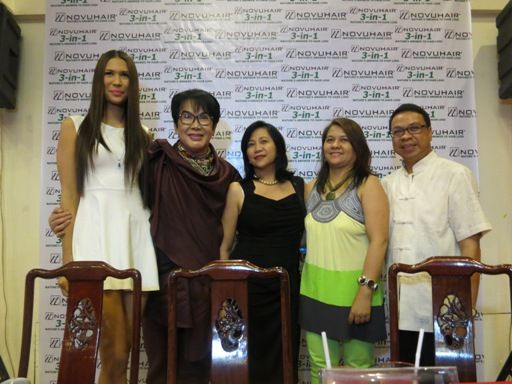 Left to right: Gwendoline Ruais, Fanny Serrano, Mae Velilla, Dr. Rica Mallari, Dr. Bunny Bernardo
Dr. Rica Mallari
talked about common hair problems, treatments and solutions, while
Dr. Bunny Bernardo
gave a brief talk on the history and evolution of Novuhair and the release of their new and improved Novuhair 3-in-1 Pack.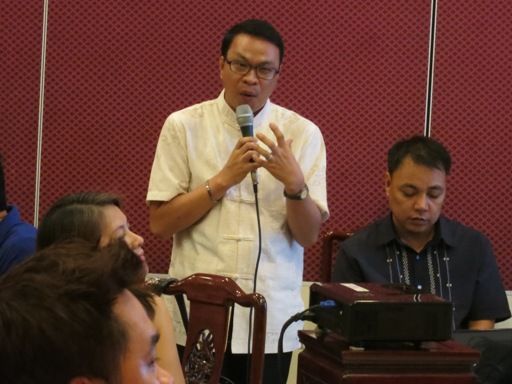 The Novuhair 3-in-1 Pack will now give Novuhair users the complete hair experience with a shampoo that nourishes the scalp and strengthens hair follicles, a conditioner that softens hair strands, and a topical scalp lotion that helps prevent hair loss by improving blood circulation to the scalp and increasing nutrients.
Fanny Serrano's Experience with Novuhair
Fanny Serrano (more popularly known as "TF" in Philippine show business) vouches for the effectiveness of Novuhair. When he was 40 years old, he experienced a balding problem that affected his self-esteem. He tried different hair grower treatments and special shampoos (even the shampoo for the horse) and took hair grower capsules, but they didn't work. He eventually had to wear wiglets/toppers to cover up his baldness until a friend recommended Novuhair.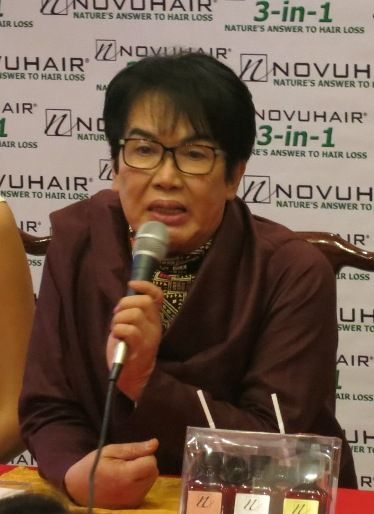 After two months of using Novuhair, TF's excessive hair fall stopped. He then called Nutramedica to tell them how pleased he was with their product. After 3 years of using Novuhair, he now has thick, soft and shiny hair.
Everyone had a fun time listening to TF's testimonial as he gave a funny account of his serious hair loss problem using terms such "parang me nag-away na pusa" to refer to the many strands of hair on his pillow every time he gets up in the morning. TF strikes me as a genuine sincere person so I believed him when he said that Novuhair revived his crowning glory; that made me want to use Novuhair for a long time, too.
What Gwendoline Ruais Has to Say about Novuhair
Being a beauty queen, model and host, Gwendoline has to look her best all the time, and one of the things she has to do meet the demands of her projects is to change her hairstyle often which ultimately damaged her hair and scalp and caused her to have dry, limp and lifeless hair. Using a special shampoo and conditioner only worsened her hair condition until she learned about Novuhair from Ms. Cory Quirino. Gwendoline now enjoys the all-natural goodness of Novuhair and the tender loving care it gives her hair.
What Makes Novuhair 3-in-1 a Cut above the Rest
The effectiveness of Novuhair is backed up by a clinical trial conducted last year by renowned hair and scalp expert Dr. Rica Mallari. This study showed a 100% success rate among the volunteers. There was no progression of hair loss and no decrease in hair shedding in all subjects. None of them experienced side effects from using Novuhair, too.
Novuhair is made with natural ingredients that do not have harmful side effects. Some of the active natural ingredients of Novuhair are as follows:
• Moringaoleifera or malunggay helps restore the skin's condition and prevent falling hair.
• Prunusamygdalus or sweet almond oil easily penetrates the hair shaft and follicles, relieving hair dryness and itching and providing nourishment to the hair to promote hair growth.
• Panax ginseng improves blood circulation to the scalp.
• Ginger is also a hair bulb nutrient and stimulant.
• Aloe is an effective agent for hair growth and the prevention of falling hair.
• Lavender helps relieve itching.
• Rosemary contains properties that help combat dandruff and disinfects the scalp.
• Lemongrass helps clean the scalp's pores.
• Peppermint slows the growth of bacteria and fungi, aside from having a relaxing effect on the muscles.
The Novuhair 3-in-1 Pack is available at all Mercury Drug and Watsons stores nationwide. Suggested retail price is P4,980. Call 413-6570 or 0922-883-0575 and visit www.novuhair.com for more details. Like them on Facebook: Novuhair Official or follow them on Twitter @NovuhairUpdates.