I have been eyeing Shoebox & ME in Robinsons Galleria for a long time but never had the courage to enter the shop because I thought they are selling expensive shoes. I was content catching a quick glimpse of the items each time I pass by the store. I finally decided to get inside the store and try a few of their items last year because I badly needed new shoes to wear for an event I'd be attending the next day. I ended up buying a pair of stylish black wedges that I now wear to church every Sunday. Last April, I went there again to look for a new pair of sandals that I'd be using for our Davao trip, and here's what I bought.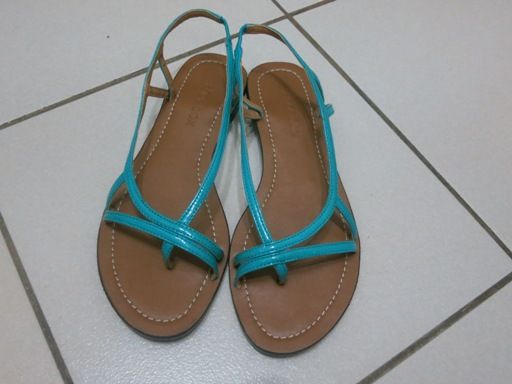 This green pair of Shoebox & ME sandals is fashionable, comfortable and light, and it's priced at less than Php1,000. Upon closer inspection, I also noticed these sandals' beautiful sole.
I love wearing these sandals because they look good on my feet and the color complements my skin tone. I actually think they make my feet look sexy.
I learned from talking to the staff that Shoebox & ME is a Filipino-owned company and that their shoes are made in Marikina. That made me want to buy more shoes from them. Next time, I'll snag a chic pair of ballerina flats.
Shoebox & ME
3rd Level, Robinsons Galleria
Quezon City