Since our son had his first bicycle ride in Baguio last February, the idea of owning a bike never left him. That was what he wanted as gift from his Dad when he finished Kinder 2 with flying colors. He received the Gold Medal for General Academic Excellence during their culminating activity last March, which means he's No. 1 in all Kinder 2. He also received 4 gold and 2 silver academic medals and 1 gold medal for Perfect Attendance. He really deserved a reward for doing well in school.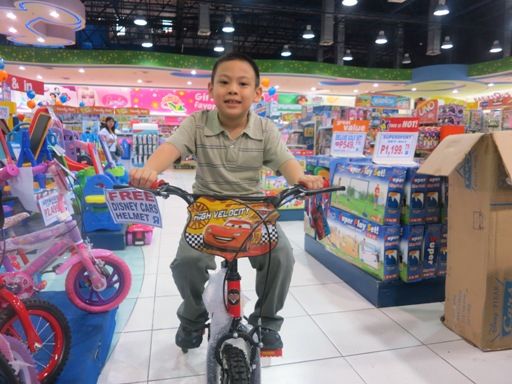 Our young man's dream bike!
Until now, however, we still haven't bought the bike that he likes because of the following reasons: First, we live in a small condo unit that has no space for biking. There's a playground, though, at the 39th floor of the building, but he doesn't like going up there. Second, we're protecting his left hip bone. He was diagnosed with
Perthes' disease
last year which caused his left hip bone to collapse. He was forbidden to run, jump and have P.E. for one year.
During our follow-up check-up last month, his bone doctor said my son's left hip bone is showing signs of healing, but he said it will take one more year for it to fully heal. Despite this glimmer of hope, we still do not want him to put added pressure in his left hip bone as a result of frequent biking, so it might take a while before he would get his wish. For now, he will have to do with occasional biking at Quezon Memorial Circle or anywhere with bikes for hire.