Our 6-year-old son has been looking forward to watching The Croods, and we finally got to watch it last Saturday at the SM Mall of Asia (MOA). The picture below, however, was taken at Robinsons Movieworld days before we went to MOA.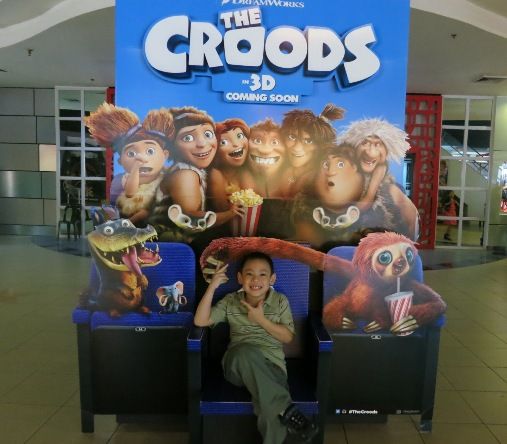 Picture taken at Robinsons Movieworld
The Croods, the world's first modern family, leaves their cozy cave after it was destroyed by an earthquake brought about by a massive continental drift. They are forced to explore a vast, unknown landscape to search for a new home. This journey of a lifetime changed their outlook on life. The members of the Croods family are as follows:
• Grug, the protective father who doesn't want his family to go out of the cave because he believes that "fear is good," and "change is bad"
• Ugga, Grug's supportive wife and the open-minded mother of Eep, Thunk and Sandy
• Eep, the rebellious teenage daughter who loves to explore and discover new things
• Thunk, Eep's and Sandy's brother who wants to be like his father Grug
• Sandy, the baby who doesn't speak, but growls and bites instead.
• Gran, Grug's critical mother-in-law.
The Croods get help from two hitchhikers, Guy and Belt. Guy knows a lot of things and makes dazzling discoveries, such as fire and shoes. Belt is Guy's best friend and pet sloth.
We found ourselves laughing many times during the movie and loving the Croods for showing that a family sticks together no matter what. It's really a fun movie to watch.
The Croods is a 3D comedy adventure film produced by DreamWorks Animation and distributed by 20th Century Fox. It's still showing in movie theaters in Metro Manila.