I'm not young anymore, but I don't want to look old yet. One of the signs of aging in women is sagging skin. This is something that I wouldn't like to have, well, not just yet, and something I'd like to prevent from happening if I can. For months now, I've noticed that the skin on my upper arms is not as tight as it used to be, and I fear I might have flabby arms soon if I don't do something about it. So I looked for a firming lotion to help me make my skin tighter and healthier, and that's how I came to discover Myra VitaFirm Firming Hand & Body Lotion. I've been using this product for almost three weeks now.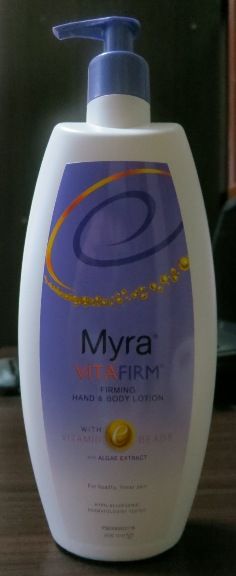 Myra VitaFirm Firming Hand & Body Lotion (500ml), Php289.75
Product Ingredients:
Myra VitaFirm Firming Hand & Body Lotion has Water, Glycerin, Cetyl Palmitate, Cyclomethicone, Cetyl Alcohol, Dimethicone, PEG-6, Steareth 21, Algae Extract, Plullulan, Lactose/Mannitol, Cellulose, Hydroxypropyl Methylcellulose, Tocopheryl Acetate, Acrylates/C10-30 Alkyl Acrylate Crosspolymer, Mineral Oil, DMDM Hydantoin, Iodopropynyl Butylcarbamate, Stearic Acid, Fragrance, Disodium EDTA, Titanium Dioxide, Sodium Hydroxide, CI77492.
Product Description:
• It's formulated with Algae Extract, a natural ingredient known to promote skin firming.
• It's clinically proven to improve the tightness and elasticity of skin when used daily for 2 weeks.
• It contains Vitamin E Beads that protect and nourish the skin.
• It helps keep the skin healthy, firm and young-looking.
• It's ideal for everyday use.
• It's hypo-allergenic and dermatologist-tested.
What I Like About This Product:
• It's easily absorbed by the skin.
• My skin feels soft and smooth after application.
• It doesn't leave a greasy feel on the skin.
• My skin feels tighter after using this lotion.
• It's mildly scented.
• The 500-ml bottle comes with an open-close mechanism. You can twist the nozzle to the left to open it and twist it to the right to close. This prevents wastage if someone accidentally presses the nozzle.
What I Dislike about This Product:
• None so far.
How Long I Intend to Use This Product:
• I intend to use it for a long time.