I'm sure every Pinoy knows National Book Store and for a good reason. National Book Store is the go-to place for those who need school supplies, art supplies, office supplies, books and textbooks. But do you know the owner and founder of National Book Store? She's none other than Socorro Ramos, known to many as Nanay Coring.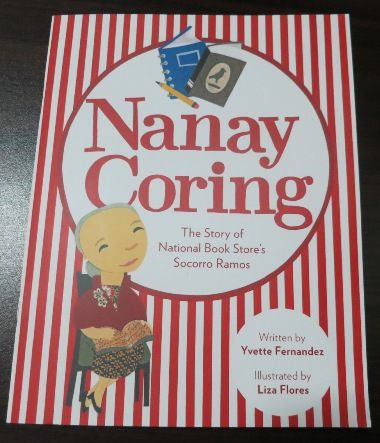 During our
mommy-son date
last week, I promised my son that I'd buy him new books, and one of those I bought at Bestsellers was
Nanay Coring: The Story of National Book Store's Socorro Ramos
. This book was written by the same author who wrote
Big John: The Life Story of John Gokongwei Jr.
that I really liked. I have already read Nanay Coring's book to my son twice during bedtime.
The Life Story of Nanay Coring
Nanay Coring grew up in a poor family. She learned to work hard at a young age to be able to buy the school supplies she needed in school. That's her way of helping her mother who was the sole breadwinner of the family. Because they didn't have enough money to send her to college, she went to work as a salesgirl in a bookstore right after graduating from high school. It is here where she met the love of her life, Jose, who later became her husband and father of her three children. She called her husband "Ling," short for "Darling."
Ling bought a small bookstore that they named "National Book Store." National Book Store was the brand of their cash register; they named their book store as such because it sounded nice. First, they sold books, but they had to put their books away during the Japanese Occupation. They sold pencils, pens, paper, candy and soap instead. Then, they sold tsinelas (rubber slippers) when they realized that the Japanese soldiers liked wearing slippers after wearing boots all day long.
Their little store burned down after the Americans came and bombed Manila to send the Japanese away. They lost everything, but Ling set up another small store on a street corner to sell the books they kept during the Japanese Occupation and the whisky bottles that someone sold them before. Business was good but not for long. A big typhoon hit Manila one day which blew off the roof of their store, but the couple did not lose hope. They rebuilt their store again, worked doubly hard and saved money to buy more books and school supplies.
Their hard work paid off because there are now more than 150 National Book Store, Bestsellers and Powerbooks branches all over the Philippines. Nanay Coring is almost 90 years old, but she still wakes up early and goes to work every weekday.
12 Tips from Nanay Coring about Business and Life
At the end of the book, there are life and business tips shared by Nanay Coring. She said:
1. Know what you want to do and believe in yourself.
2. Find out what your customer wants.
3. Make sure every customer feels important.
4. Buy something for one centavo, sell it for more, but always less than the people who are selling the same thing.
5. Be frugal. Live simply.
6. Always be on time.
7. Don't be afraid of anyone.
8. Work hard, very hard.
9. If you have the love and passion for what you do, hard work will not be a sacrifice, but a joy!
10. There will always be hard times. There will always be failures. If you fall down, get back up. Never give up.
11. Invest in your mind.
12. Buy lots of books from National Book Store.
Nanay Coring costs Php125.00 and is part of the Dream Big Books collection. Dream Big Books is a collection of inspiring stories for children that will make them "aim for the sky, do their best, and meet the challenge of helping change the world we live in for the better." Nanay Coring was written by Yvette Fernandez and illustrated by Liza Flores.