Yesterday, March 12, 2013, was the start of the culminating activity of Kindergarten 2 at La Salle Green Hills (LSGH); it was held at the National Shrine of the Divine Child (NSDC), a chapel located inside LSGH. There were 8 sections for Kinder 2, but the culminating activity would be held on two different dates. They divided it into 4 parts, two sections in the morning and two sections in the afternoon of March 12 and March 13.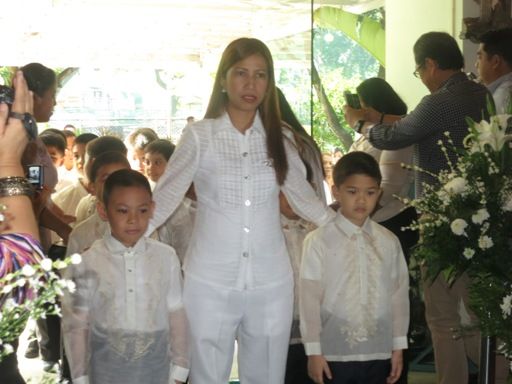 My son with his partner entering the chapel
They probably did it this way because it's convenient for everyone. There were 204 graduating Kinder 2 pupils, so doing the culminating activity in one day would take forever to finish and would only result in irate parents and restless kindergartners. Yesterday, Sections A and B had their culminating activity in the morning, while Sections E and F had their culminating activity in the afternoon. My son belonged to Section B.
The graduating Kinder 2 pupils from Sections A and B
We left our house early to avoid traffic, so we were among the first to arrive at NSDC. I had the shock of my life when one of the school staff I met in the ladies room before the ceremony told me: "Congratulations, Ma'am!" I said why? Because your son is No. 1 in all Kinder 2." Not convinced, I asked her another question: "How did you know that"? "Look at the program, Ma'am. Justin's name is there."
Justin saying his piece as Reader No. 2 during the Offering of Symbols
Up until yesterday morning before we arrived at the graduation venue, I was clueless about my son's overall academic standing. He's consistently in the Top 5 of his class, but I didn't know the results of the General Excellence tests he took last February because nobody's telling me. I also knew that my son would receive medals yesterday, but I didn't know how many or for what subjects he was getting them. His teacher told him he'd get lots of medals but asked him not to tell mom or dad because it's supposed to be a surprise.
The K2 graduating pupils singing "What a Wonderful World"
When I approached my seat, the first thing I checked was the booklet with the list of Kindergarten 2 awardees. There, on the first page, was the Honor Roll for School Year 2012-2013, and on top of the page was my son's name as gold medallist for General Academic Excellence! Whoa, I couldn't believe my eyes! The succeeding pages of the booklet revealed the subjects he got gold and silver medals in and his special award (Perfect in Attendance).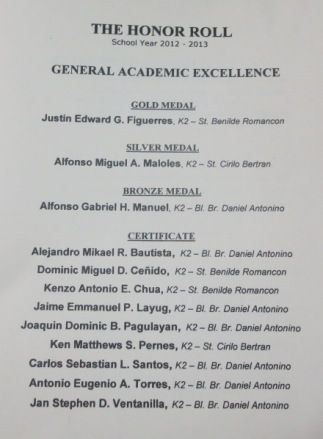 All in all, he received 8 medals (6 gold medals and 2 silver medals). He received gold medals for the following: General Academic Excellence, Language, Science, Computer, Music and Perfect Attendance, and he received 2 silver medals for Reading and Filipino. I was having goose bumps when my son's name was called and his academic medals were given one after the other.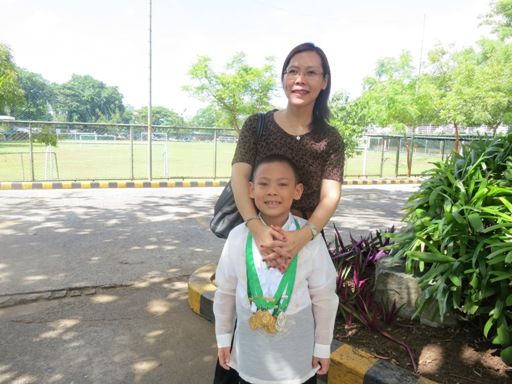 I remember last February while we were reviewing for the General Excellence tests, my son told me that he wanted to have a medal on graduation day. I told him I'd help him get at least one medal, but I never expected he'd get a lot! The other parents were clapping for him, too, and that made his Dad and I even prouder. I wasn't able to work and earn as much last February because we had to review for a lot of tests, but it was all worth it. Congratulations, son! We love you so much!