I've been to P.F. Chang's twice already. I was there to cover the opening of their two branches in Alabang and Bonifacio Global City (BGC). My husband and my son, however, have never been there and have not tried their food offerings yet. That's the reason why we decided last February 9 to have our family dinner at P.F. Chang's in BGC.
We ordered the following: Northern Style Spare Ribs, Singapore Street Noodles and Shrimp with Lobster Sauce.
Northern Style Spare Ribs, Php750.00
Hubby and I liked this. This was actually one of my favorite dishes served during the opening of P.F. Chang's Alabang branch. These are wok-braised ribs served with a five-spice salt rub. The tender ribs infused with sweet, salty and savory flavors were truly delightful.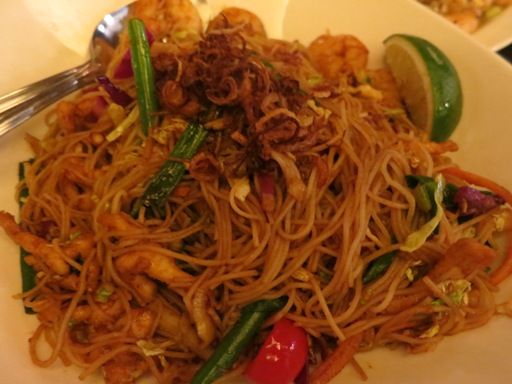 Singapore Street Noodles, Php425.00
These are stir-fried rice noodles with shrimp, chicken and vegetables in curry sauce. We squeezed lemon, instead of calamansi, into our Singapore Street Noodles before eating because that's what they offered. We enjoyed this, too!
Shrimp with Lobster Sauce (Small), Php365.00
These are shrimps with Chinese black beans, mushrooms, scallions and egg in white wine sauce. We liked this the least not because it wasn't yummy but because it didn't complement the taste of the Northern Style Spare Ribs and Singapore Street Noodles.
From left to right: Tamarind Iced Tea (Php95.00), Strawberry Passion (Php150.00), Honey Dew Cucumber (Php120.00), Jasmine Iced Tea (Php95.00)
The Tamarind Iced Tea and the Strawberry Passion were instant favorites. Hubby didn't like the Honey Dew Cucumber much. I should have let him tried the Mango Peach Mint, the one I had during the opening of P.F. Chang's BGC branch, because that was deliciously refreshing.
Free ice cream!
When the little boy was done eating, he was given complimentary ice cream by one of the waiting staff. That made my son really happy! Thanks, P.F. Chang's!
P.F. Chang's
W Global Center
Bonifacio Global City
Telephone No.: (02) 664-5956